#228
Rainbow welcomes the new faces of Pride
The Pride Centre has the beginnings of a new portico and a new CEO who is a familiar face.
COVID restrictions did not stop work on the Pride Centre as the architectural elements of the grand portico were added recently. Reaching out over the Fitzroy Street footpath, the portico makes a big and proud statement.
It's the new face of Pride in the Street.
(Thanks to Lucia Rossi for the image)


Other Pride Centre news includes the appointment of Justine Della Riva as inaugural CEO. She is a familiar face to many, as she had been the acting CEO. An experienced activist, with design and business skills (and qualifications), Justine was selected from a 'strong, nationally competitive field of applicants.'
Congrats Justine.


A very closed book @ Libraries
COVID closure
All Port Phillip libraries locations are now closed to the public.
The Click and Collect service has been paused and they are not accepting returns! Yikes!
Don't panic – there are no fines.
Connect to the amazing array of free online resources available
Get the latest library news



Sharks of Port Phillip Bay @ EcoCentre Zoom
Thursday 13 August, 6 pm
Join Ben Francischelli on a journey into the depths of Port Phillip Bay as he talks all things sharks. Ben is one of the EcoCentre's Education Facilitators and an experienced Vertebrate Palaeontologist.
Something to get your teeth into! Free
Join the Zoom



Planet Janet Trivia 2 "The Reckoning" @ Port Phillips Greens
Friday 14 August 14, 8 pm
Fun fund raiser for the local Greens Party with trivia host Janet from the Taphouse. $20 /$15 
More info and tix
Contact Mike Wilson · secretary.portphillipbranch@vic.greens.org.au · 0422 811 187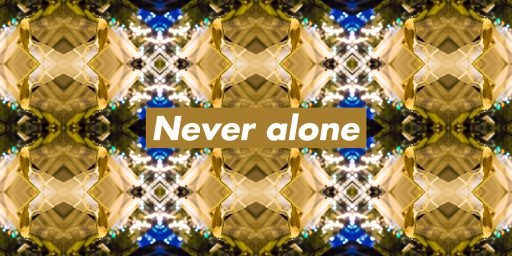 'Never alone' by artist Kent Morris @ Fitzroy Street
A colourful electronic billboard by Indigenous artist Kent Morris is on show above Fitzroy Street – literally for a very short time.
"Never alone" is text overlaid over a bright blue and yellow photographic geometric image inspired by the heron he sees on his walks through Elwood in Yaluk-ut Weelam country.
The billboard is shown for one minute every three minutes, alongside advertisements. It's part of the Australian Centre for Contemporary Art exhibition Who's Afraid of Public Space?



Ron Peno & The Superstitions @ Memo live stream
RESCHEDULED
Sunday 20 September, 7.30 pm
Great performer, great band, quality presentation by Renegade Films – $12 bargain
Tix
Brooke Taylor & band plus Dalicados @ Memo live stream
Deferred TBC
Lockdown photos from readers
Yellow sign of hope @ Anna Griffiths
"On a recent solidly grey morning in St Kilda, I saw the sign in the water as a warning to our unwelcome visitor, and the little patch of yellow a sign of hope. It is a good time to be creative, with more time for deeper thought and reflection, seeing metaphors in everyday objects.
"Thanks for TWISK. It is very, very welcome in this time of isolation."

Where have all the humans gone? @ Edgewater Towers
A friend calls these Sulphur Crested Cockies the Bikies of the Bird Kingdom.
This gang of Balcony Bullies wanted to say gday to Gday at breakfast time last Friday.
Let it be known, I didn't feed them!
Lockdown activity ideas


See if you have the write stuff @ 27th Scarlet Stiletto Awards
Closing date 31 August
Over $10K in prizes is up for grabs by women crime writers with a killer story in their hip pocket, lap top or designer accessory bag.
Keep it less than 5,000 words or else the consequences will be deadly.
You'll have to slap down some cash to enter if you dare, $25/$20.
Start plotting stiletto sisters.
Entry form and details 



Make your Postcard @ Linden Postcard Show 20/21
Entries close 25 August.
There's still time to get your entries ready for the most democratic art show in town.
Like everything else, COVID has changed the rules:
> All artworks must be posted to the gallery instead of delivering them in person.
> Artists can only enter a maximum of three artworks, not four
> Entries will be capped at 1000 artworks – it is best to get in early to secure your place.
Please be sure to read the full terms and conditions of entry before submitting your artwork. 
More info



Bike with friends @ PP BUG
Cycling is always in style, but never more so than in these COVID times. The local Bicycle Users Group (BUG) is looking for new members. They do cool things and advocate for a better deal for cyclists.
Get with the good BUG
Ideas for teachers @ EcoCentre Virtual incursions
Free for Term 3
The EcoCentre has launched a brand new online incursions program for schools, with over 10 tailored modules linked to school curriculum.
Come snorkelling, gardening and birdwatching with the EcoCentre from your virtual classroom!
Read more 
Contact Dr Cecile van der Burgh, Sharron Hunter, and the EcoCentre Education Team to get involved
schools@ecocentre.com
Local news
TWiSK special edition: Long distance leadership @ Port Phillip
Despite declaration of a State of Disaster, Port Phillip Council CEO Peter Smith has opted to work remotely from Adelaide until 18 August.
Read the extraordinary case of the long-distance CEO 
Interestingly, Council has revealed that a number of other staff are working remotely from interstate.
Feedback from readers so far
"Working remotely doesn't bother me but I am surprised SA has permitted someone from a "corona virus ridden state" cross the border twice."
"Well researched."
"It says a lot that the 'placemaking advocate in general' has chosen Adelaide as the place to be."


Crunch time for budget @ Council
297 community submissions received
Decisions being made next week
Never has a council budget received so much attention.
And bravo to the hundreds who made submissions.
TWiSK recommends setting aside a half hour so to go swimming amongst the detail – it's all online with names redacted – very illuminating 
Submissions range from short emails from business owners with heartbreaking pleas for rate relief to people with high value properties squealing about higher rates.
There's also organised support for high profile projects like the EcoCentre and other community organisations.
Progressive Port Phillip has an interesting report on the submissions

Previous TWiSKs
TWiSK special edition: The extraordinary case of the long-distance CEO
Monday 3 August – Sunday 9 August