#214
$250K Council Arts Rescue Package and other budget news
Choir rallies support for traders
St Kilda Film Festival goes virtual
DJ Sunshine  @ Memo live stream
Sensory and Wildlife Gardens @ EcoCentre Zoominar
No Pink Cowboys @ Web series
Virtual teaser @ Linden
This Week in St Kilda
Budget blues as council counts corona cost

Over 100 people logged into an online Council budget briefing last Monday 4 May. Council officers provided a lengthy explanation of the dire financial situation caused by COVID19.
Revenues are expected to be down $32M over this and next financial year – due mostly to significantly lower parking, development and rental income. A provisional list of $16.5M in savings has been identified. But a significant shortfall remains. Details of a second online briefing are below.
List of budget cuts | List of service cuts
Council online budget briefing #2 @ Port Phillip
Monday 18 May, 7 pm
This will include updated information and more community Q&A.
Visit Have your say Port Phillip to register for the briefing
Arts Rescue Package good news, but news to many
It was revealed in the first budget briefing that Council was developing a much-needed Arts Rescue Package – surprisingly several arts bodies contacted by TWiSK said it was good news, but the first they'd heard about.
While the details are yet to be finalised, the briefing was told that $250K would be distributed across three line items:
$100K for the St Kilda Film Festival online;
$130K in grants to artists and arts orgs across three streams: broad based artists, art for people with a disability and First Nations artists;
$20K for 3D exhibition tool for three galleries including Carlisle Street Arts Space and two others.
Hear exactly how it was described at the 4 May budget briefing
A quick consult with Dr Google shows that the Port Phillip recovery fund is smaller than Melbourne's $2M but larger than other surrounding council's (eg Yarra's which at $185K was the largest).
However both Melbourne and Yarra announced their grants some time ago and have distrusted much of the cash already. Stay tuned for more details when the final package goes to Council on 20 May.
Contact TWiSK if you have any ideas for arts / music support you'd like aired.
Editorial


Don't let conflict within council distract us from the real challenge

Strap yourself in for some heated and at times acrimonious talk about council's response to COVID19.
With Council elections just months away, the debate among councillors was always going to be more competitive, especially with more division along party lines. But now there is the added and unusual element of disenchantment with the CEO and organisation's response to COVID.
Multiple councillors have told TWiSK the organisation's response was too slow and 'missed opportunities for reform'.
This emerged as Council revealed it was operating with 160 – 180 positions vacant (out of 846 EFT) before COVID hit – prompting obvious questions about the necessity of budgeting for these vacant jobs in tough times.
But here's the tricky bit – the inevitable and entirely predictable debate about rate increases should not distract us from the real challenge – which is community unity in a crisis.
No-one expected or wanted COVID
But we've got it and it's a killer when left unchecked.
It targets the old, the vulnerable and others at random –  people like me, you and your loved ones.
Unlike almost every other crisis, we are all in this together.
Unite us, don't divide us
To emerge united rather than divided, we need to share the burden of recovery – as fairly as we dare. And that means Council needs to share the 'pain' by finding ways to keep necessary services and supports going within the current rates.
Most households and businesses across Port Phillip are feeling the hard times, indeed many are struggling to cope with the new circumstances.
Ordinary people and small businesses are unable to increase their incomes or charge higher prices in these circumstances.
Council now needs to work with what it's got
Like others, Council must learn to operate on the funds available in the COVID world.
Let's face the tough times together – we'll emerge better for it.
End of rant
Happy to publish a selection of short responses

Virtual incarnation @ St Kilda Film Festival
Friday 12 June until Saturday 20 June, Free
Bravo for keeping the event going, and like it's big sibling MIFF, it may even get a wider audience on a smaller budget (go figure).
Also good news for the film makers, with all 598 entrants getting their fees refunded with the help of film submission site Film Freeway.
All films selected for the Top 100 will also be paid a screening fee.
The St Kilda Film Festival will also remain an Academy Awards® qualifying event.
www.stkildafilmfestival.com.au
See media release

Climate Emergency Community Forum #1 @ Zoom
Wednesday 13 May, 5 pm
Council is hosting three free online interactive sessions during May presented by the Sustainability Team with the Port Phillip Emergency Climate Action Network (PECAN).
Session 1: What is the City of Port Phillip doing and why?
DJ Sunshine and Disco Faith Choir present 'Freedom' @ Memo live stream
Saturday 16 May, 9.30 pm
DJ Sunshine has been an institution within an institution, spinning at Melbourne's infamous Revolver for donkey's years and now extended her hand to Sunshine and Disco Faith Choir. $10
YouTube clip
Tix

Our Viral Village song @ Elwood Community Choir
Listen online
Inspired to support local traders through hard times, the choir created a song for the times.
Recorded on mobile phones and magically mixed, the song urges locals to keep supporting our local traders.
The choir continues Wednesday rehearsals on Zoom.
Over 30 singers have joined each week – apparently its plenty of fun (and maybe like singing in the shower as if no one is watching?$#!)
More singers are welcome.
Contact Jeannie Marsh to get involved
0432 088 284 jeannie.marsh1@gmail.com
PS After each rehearsal, the choir meets a local performer via Zoom.
Last week they chatted to Tracey Harvey and Greg Stone.
This week it's Don Bridges.

Designing Sensory and Wildlife Gardens @ EcoCentre Zoominar
Thursday 14 May, 6.00 pm – 7.30 pm
Join ecopsychologist and EcoCentre Garden Coordinator Deb for an interactive seminar on designing a sensory or wildlife garden for your home, school, business, or community.
Free Registration

No Pink Cowboys @ Web series
Available on YouTube
Local creative Fabiana Weiner has teamed up with some very creative pals to make a web series about lurve.
It's a heartfelt and relatable story of love, sex and dating….gone wrong!
Read the back story with Fabiana

Virtual teaser @ Linden
As revealed in the Port Phillip Arts Rescue Package, a 3D gallery option is on the way …. But, before it gets going, Linden have opened a teaser virtual gallery tour, featuring 360 degree photographs of current exhibitions, Karla Dickens > My Mother's Keeper, Robert Fielding > Routes/ Roots and Jacqui Stockdale > The Long Shot.
Get Immersed 
Dead barrister's society @ St Kilda Cemetery
Webinar for Law Week, Friday 22 May 3.00 pm – 4.00 pm
Look at the fascinating lives of former members of the bar buried in St Kilda Cemetery. Presented by the Victorian Bar and The Friends of St Kilda Cemetery and moderated by Rob Heath QC.
Registrations are essential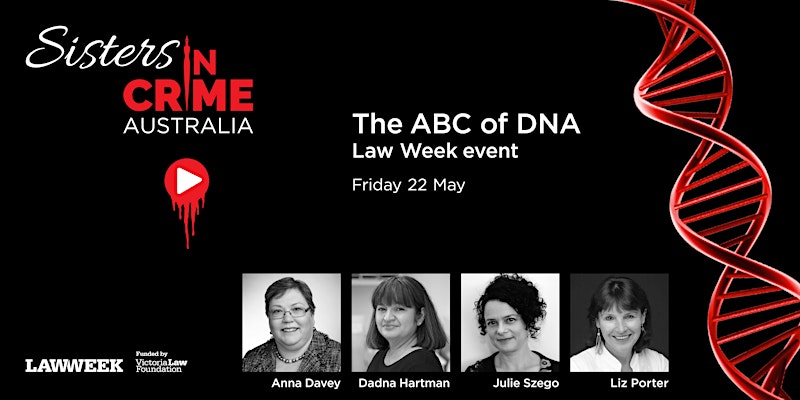 The ABC of DNA – Online Panel @ Sisters in Crime
Friday 22 May, YouTube
Forensic specialists Anna Davey and Dadna Hartman together with true crime author Julie Szego will talk to award-winning journalist and true crime author Liz Porter about how DNA profiling has revolutionised criminal investigations since the 1980s.
Support this event
Support  Sisters in Crime by purchasing a $10 ticket. Three lucky ticket holders will score a true crime book pack each – worth $150

Horns of Leroy @ Memo Live Stream
Saturday 30 May, 7.30 pm
Sashay in your own lounge with a New Orleans ISO party! Melbourne's Horns of Leroy and soul songstress Thando will do some fun party covers and classic New Orleans material. $15
Tix

Golden Years: Bowie tribute @ Memo live stream
Sunday 31 May, 7.30 pm
Celebrating the breadth of Bowie's musical styles with an incredible band. Live concerts sold out last year. $12
Tix
Previous COVID19 TWiSK
Monday 27 April – Sunday 3 May
Monday 20 April – Sunday 27 April
Monday 13 April – Sunday 19 April
Monday 6 April – Sunday 12 April