#215

Pride Centre reaches high point @ Fitzroy Street
Lost in the COVID coverage was the fantastic news that the Pride Centre is structurally complete – meaning it has reached it's highest point – a significant and timely landmark.
No doubt there is much to do before it's ready to house a rainbow of LGBTIQ groups later this year!
Yesterday (17 May) the Pride Centre celebrated IDAHOBIT by announcing that Gandel Philanthropy has contributed $130,000 for Next Generation Pride – a program to welcome young people to the Centre.
But who is IDA HOBIT? See the end for the answer 🙂
Follow progress with Pride 
Creative project for kids and kids at heart
Win one of two family day passes to Luna Park (valued $150 each)
Draw a picture, write a poem, take a photo, make a short movie, tell a story.
Topic: "My 'iso' in St Kilda"
Two age categories: Under 12 and 13 + including grown ups
Entries close Monday 1 June by email
Entries must be original work by residents or students of St
Kilda (and adjoining suburbs).
Sending an entry gives us the rights to publish it in TWiSK.
Judge's decision is final and all that stuff.
Passes only valid after Luna Park re-opens.
Self funded by TWiSK.
More info

Council budget community Q&A @ Online
Monday 18 May, 7 pm
Council's income has taken a massive $32M hit because of the COVID-19 restrictions.
Budgets and projects are set to be cut or squeezed, but even after that the situation looks dire.
Council is calling for community input before they make final decisions in August.
Rate increases being discussed.
Tricky with Council elections looming on 24 October.
List of budget cuts | List of service cuts
Register for the Q&A
From next week 
TWiSK will start publishing bite-sized looks at the 'community cost' of the proposed cuts.
First topic:
$500,000 cut from Public Toilet Plan Implementation Program
What's gone and what's staying?
Watch this space
Happy to hear your concerns


Port Phillip Arts Rescue Package @ Council papers
As reported last week, a $250K arts rescue package goes to Council for approval this Wednesday. The package supports the St Kilda Film Festival, delivers $133K in grants and $17K in 3D exhibition technology.
Details 
Council elections @ Saturday 24 October
The State Government has opted not to delay the forthcoming council elections in favour of imposing state-wide postal voting.
The MAV had sought a delay because of the COVID challenges, including uncertainty about door knocking and campaigning activities under social distancing regimes.
Postal voting is seen by some to favour party candidates over independents.
The timing is also particularly tricky for current councillors as they must deliver difficult budgets just weeks before going to the ballot.

Adani Zoom away song @ Stop Adani Macnamara
Listen online 
The national #StopAdani movement is holding a protest ahead of the AGM of the mine's insurers Marsh McLennan later this week.
Register for the 19 May Marsh online rally here 

Climate Emergency Community Forum #2 @ Zoom
Wednesday 20 May, 5 pm
Council is hosting free online interactive sessions during May presented by the Sustainability Team with the Port Phillip Emergency Climate Action Network (PECAN).
Session 2: Actions you can take now

Thank our SES volunteers @ WOW Day
Wednesday 20 May
Wear Orange Wednesday celebrates the efforts of local State Emergency Service volunteers. In big events and small, thousands of volunteers help in times of need.
Last year the SES Vic responded to over 35,000 calls for assistance.
More info #ThankYouSES #WOWDay 

Watch Party: 'Baykeepers' Short Films @ EcoCentre Facebook
Thursday 21 May, 6 pm
Four short films about our bay:
'Time of Chaos': Arweet Carolyn Briggs, Boon Wurrung Elder, shares a traditional creation story (link above).
'Beauty of our Bay': Experience the diversity of species that call our Bay home.
'Microplastics in our Bay': Port Phillip Baykeeper Neil Blake discovers the sands of his local beaches are beset with micro-plastic confetti.
'How Plastic Chokes Wildlife': Lesson from studying the effects of plastics on Mutton birds.
Broadcast on the EcoCentre Facebook page
Dead barrister's society @ St Kilda Cemetery
Webinar for Law Week, Friday 22 May 3.00 pm – 4.00 pm
Look at the fascinating former members of the bar buried in St Kilda Cemetery.
Presented by the Victorian Bar and The Friends of St Kilda Cemetery and moderated by Rob Heath QC.
Registrations are essential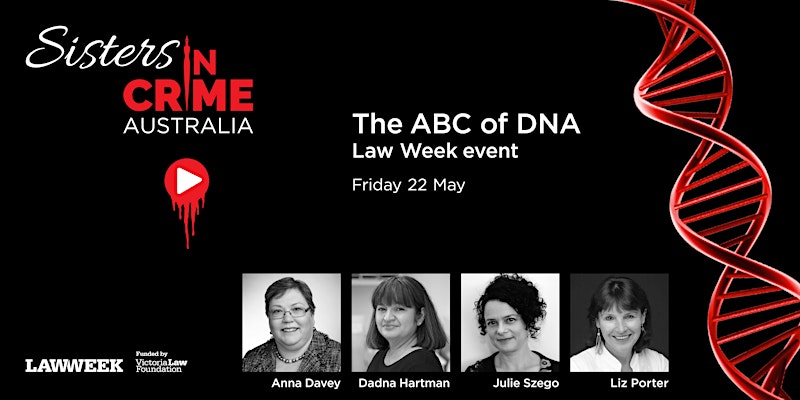 The ABC of DNA – Online Panel @ Sisters in Crime
Friday 22 May, YouTube
Forensic specialists Anna Davey and Dadna Hartman together with true crime author Julie Szego will talk to award-winning journalist and true crime author Liz Porter about how DNA profiling has revolutionised criminal investigations since the 1980s.
Support this event
Support  Sisters in Crime by purchasing a $10 ticket. Three lucky ticket holders will score a true crime book pack each – worth $150

Fairy tales retold by locals @ Carp Productions
Carp Productions, a locally-based Children's Theatre Company, have created online shows for libraries and kindergartens – and lesson plans for Schools, too!
Check out their retelling of Three Little Pigs, Goldilocks, The Ugly Duckling and more on YouTube.
www.carpproductions.com

New Work by … @ Artists for Kids Culture
Monthly fundraiser
Each month, St Kilda based Artists for Kids Culture, presents a new work for sale, with the sale price split between the artist and Artists for Kids Culture.
May's offering was Two Quinces by Lewis Miller – sold in 2 minutes ($2,000).
Register your email to hear about the next New Work by ..

Extra clean team @ streets, shopping strips, parks and beaches
Bins, pedestrian signal buttons, hand rails, street furniture and bus shelters are among the 'touchpoints' getting extra cleaning attention over the next three months.
Funded by the State Government, the team is additional to Council's standard cleaning regime, at no cost to Council.

The 'At Home' VOD Service @ Classic Cinema
On demand from $4.99
Launching with hundreds of titles, the At Home Video On Demand service has an impressive collection of European, Israeli and arthouse films. It will also carry festival content.
A highlight is the first theatrical viewing of Hugo Weaving in Hearts and Bones (pictured).
Worth a look. $$ vary up to $19.99. Is this the future of cinema?
At Home at the Classic

Tamara Kuldin sings for your donation @ Performer support fund
YouTube 
Jazz singer Tamara Kuldin has a message for you and a sublime Ella Fitzgerald song.
It's for the Recital Centre, but many will have enjoyed Tamara's St Kilda gigs with JMQ Jazz Ensemble
Donate
Soon

Meet Your Neighbours: Wildlife Stories & Trivia, @ EcoCentre Zoom
Thursday 28 May, 6 pm – 7.30 pm.
Meet your local wildlife neighbours, living in your local trees, beaches, and everywhere in between. Then, get your thinking caps on for a wildlife trivia contest!
Register 

Horns of Leroy @ Memo Live Stream
Saturday 30 May, 7.30 pm
Sashay in your own lounge with a New Orleans ISO party! Melbourne's Horns of Leroy and soul songstress Thando will do some fun party covers and classic New Orleans material. $15
Tix

Golden Years: Bowie tribute @ Memo live stream
Sunday 31 May, 7.30 pm
Celebrating the breadth of Bowie's musical styles with an incredible band. Live concerts sold out last year. $12
Tix

Ultimate Abba party @ Memo Live Stream
Saturday 6 June , 7.30 pm
Join BABBA in your pjs to be dancing queens in your own covid Waterloo. $12 These live shows go exactly the hour.
Buy your link 
Q: Who is Ida Hobit?
A: 17 May is International day against homophobia, biophobia, intersexism and transphobia (IDAHOBIT).
Previous COVID19 TWiSK
Monday 27 April – Sunday 3 May
Monday 20 April – Sunday 27 April
Monday 13 April – Sunday 19 April
Monday 6 April – Sunday 12 April