It's very colourful This Week in St Kilda as the survey ballots arrive in the post. Cast your vote then come out to celebrate! Top of the list is comedy and music back in the Gershwin Room at The Espy as part of the very first St Kilda Art Crawl – which promises 30 events over the weekend. There's also the sold out Listen Out music festival in Catani Gardens on Saturday, the Finding Memo open afternoon on Sunday and Vince Jones on Sunday afternoon. It's also the last chance to see Redstitch's The Way Out and Theatreworks Big Heart. All this and more This Week in St Kilda.

First St Kilda Art Crawl @ St Kilda venues
Thursday 21- Sunday 24 September
Here's a cool idea being tried for the first time. Let's get the best St Kilda music, art and community venues to throw their doors open for a weekend of delight, publish a map and invite the public. Hey presto!  You've got the St Kilda Arts Crawl.
www.stkildaartcrawl.com
Highlights of the first St Kilda Arts Crawl include:


Crawl launch @ Vineyard
Thursday 21 September, 8 pm
The Art Crawl opens with a free concert by the legendary and iconic singer from Died Pretty – the great Ron S Peno.
Info

Music returns to The Espy @ Gershwin Room
Saturday 23 September, 7 pm
Tix $35 on the door or $30 (plus booking fee). Hurry – strictly limited tickets via Moshtix.

Comedy gala afternoon @ Gershwin Room in The Espy Hotel
Sunday 24 September, 2.30 pm
MC Brad Oakes, Pommy Johnson, Dave O'Neil, Bob Franklin, Elliot Goblet, Chris Wainhouse, Christine Basil, C J Fortuna, Wayne Deakin, Michael Shafar and more. $25
Bookings

One World @ 4Dverse Gallery
Thursday 21 September – 29 September
'One World' is art exhibition dedicated to world peace celebrating spirituality, faith and belief opening on UN International Peace Day.
www.planetaryhealingartists.org

Stories and songs with Brian Nankervis @ Memo
Wednesday 20 September, 6.30 pm
Bring a record, tell a story. Brian will be joined by special guests Lisa Miller and Charles Jenkins. Watch their fun Vimeo promo Seated $30, door $20
Tix and info 

Rebecca Barnard @ Phamish
Thursday 21 September, 7.00 pm
Enjoy jazz, food and drink with the stylish Rebecca Barnard. Free entry
Phamish

St Kilda Rocks @ Bowlo
Friday 22 September, 7 pm
Hours of listening pleasure for $10

Scott Bradlee's Postmodern Jukebox @ Palais
Friday 22 September, 7.30 pm
Billed as gramophone songs presented for a smartphone age, this is part cabaret / part karaoke performance. It's hard to describe, so look at their videos
Tix and info 

Icons – A Drag Extravaganza @ Memo
Friday 22 September, 7.30 pm
Drag is back, bolder and more beautiful than ever before in Art Deco glamour of Memo with a night that celebrates icons of entertainment. Seat $25, door $15
Info

Listen Out @ Catani Gardens
Saturday 23 September, 1 pm – 10 pm
Doof doof fans have united for this SOLD OUT event. Listen Out is one of Australia's biggest dance music festivals with more than 20 artists in a great location – Catani Gardens.
www.listenout.com.au
Squadron Sunday @ Royal Melbourne Yacht Squadron
Sunday 24 September, 11 am onwards
Non-members are invited to sign-up for a casual sail. Theres also lunch and music on the menu.
Call 9534 0227 to book a sail
Magnificent Mansions and their Residents @ St Kilda Cemetery
Sunday 24 September, 2.00 pm
Hear about some of Melbourne's Magnificent Mansions and the families who lived in them that are buried at St Kilda Cemetery . Graves visited include Armytage family (Como House), Sargood family (Ripponlea) and many more. Cost $10.
Bookings info@foskc.org

Finding Memo @ Memo
Sunday 24 September, 3.00 pm – 6.00 pm
Get to know your Memo Music Hall with a free afternoon inspired by Jon Von Goes (JVG Triple R), the bloke who bought you the Winnebago Lounge, this month featuring The Rebelles. Memo Music Hall is behind the St Kilda RSL in Acland, enter from Albert Street.
Info

YES Postal party fund raiser@ Local Taphouse
Sunday 24 September, 3.00 – 5.00 pm
Bring your ballot, share a brew, raise funds for Equity Campaign. Music, nibbles and lots of YES people $50/$10
RSVP equalitybypost@gmail.com
Down by the Salley Gardens @ All Saints
Sunday 24 September, 4.00 pm
Christopher Watson (tenor) and Michael Leighton Jones (baritone), accompanied by John O'Donnell on piano. The program includes songs by Benjamin Britten, Ivor Gurney, Roger Quilter, John Ireland, Peter Warlock and others, including the delightful song cycle by Gerald Finzi, Let us Garlands Bring. $25 full price, $15 concession, and free for students (with student card).
Full program

Vince Jones Tour Club @ Memo
Sunday 24 September, 7.15 pm
Jazz icon in the 'hood. $42/$35
Tix and info

The Way Out @ Redstitch
Until Sunday 24 September
The Way Out is a new play by Josephine Collins, developed through the Red Stitch INK program. Featuring Kevin Hofbauer, Rory Kelly, Grace Lowry, Olga Makeeva, Dion Mills, Khisraw Jones-Shukoor and Sahil Saluja.
"The Way Out is sometimes stilted and occasionally implausible, but never boring." The Age 2.5 stars
Redstitch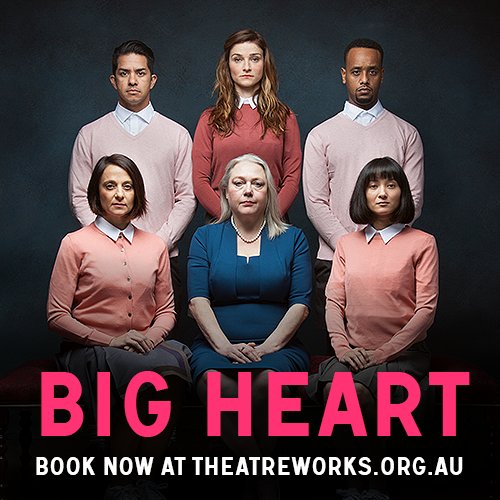 Big Heart @ Theatreworks
Until Sunday 24 September
Written by Patricia Cornelius and Directed by Susie Dee, Big Heart is the story of a woman who adopts a child from each of the continents. She believes she offers the children a better life, free from poverty, war, or neglect.
"Big Heart buzzes with provocative ideas" The Age 3 stars
Tix

Melbourne Fringe @ Local venues
14 September – 1 October
Redstitch, Eildon Gallery, Alex and National Theatres are hosting local Fringe Festival events.
Fringe program
Nigella – love bites @ Alex
Thursday 14 – 23 September, 8 pm
St Kilda Stories @ National
Tuesday 26 September – 30 September
WouldMan @ National
Tuesday 26 – 28 September
Lady Bunny in Trans-Jester @ Alex
Saturday 29 September, 8.15
Gospolation @ National
Friday 28 – 30 September, 7.30
No Offence @ Alex
Friday 28 – 30 September
Fringe program

BOOK NOW: Heart of St Kilda Concert 28 Nov tix on sale now – get in while you can for the big tenth anniversary show. Tix