Open and outdoors for Summer
The Summer in St Kilda is shaping up to be unlike any other.
And the outstanding theme is the outdoors.
That means street café dining, beaches and parks, all things that St Kilda is famous for!

This Week in St Kilda #241
Ladies Who Sing Leonard @ FOJAM
Kim Salmon & The Surrealists Album Launch @ Memo online
2021 program announcements @ Theatre Works and Gasworks
Paint Out dates announced @ Gas Works
Learn French online @ Alliance Française
Many nervous candidates after early mail on council vote



Rebecca Barnard & Billy Miller's sing-a-long society @ Memo 'live stream'
Wednesday 4 November, 7 pm
The Sing-a-long Society with Rebecca Barnard & Billy Miller has moved to The Memo Music Hall for a VIP Live Stream Experience. Should be fun times. $25
Tix



Ladies Who Sing Leonard @ FOJAM
Saturday 7 November, 8.30 pm
TWiSK saw this show in an earlier incarnation at the Memo and it was breathtaking. This streamed event has a line up to swoon over, including Ninet Tayeb (Israel), Kate Ceberano, Katie Noonan, Deborah Conway, Kylie Auldist, Emily Lubitz (Tinpan Orange), Anita Lester, Gabriella Cohen, Emma Donovan, Kee'ahn, Loretta Miller (Jazz Party), Melody Pool, Imogen Clark, Alma & Hettie Zygier, Tamara Reichman (Tamara & the Dreams), and Sophia Tuv.
$36/$16 or whatever you can
Tix



Kim Salmon & The Surrealists Album Launch @ Memo online
Sunday 8 November, 7 pm
Kim Salmon and band return to Memo less than 12 months from when they sold out the venue for the launch of Kim's biography. A chance to see and hear Kim and the band walk you through their swampy improvisations. $15
Tix
Below: St Kilda Beach after Christmas 2017 (The Age)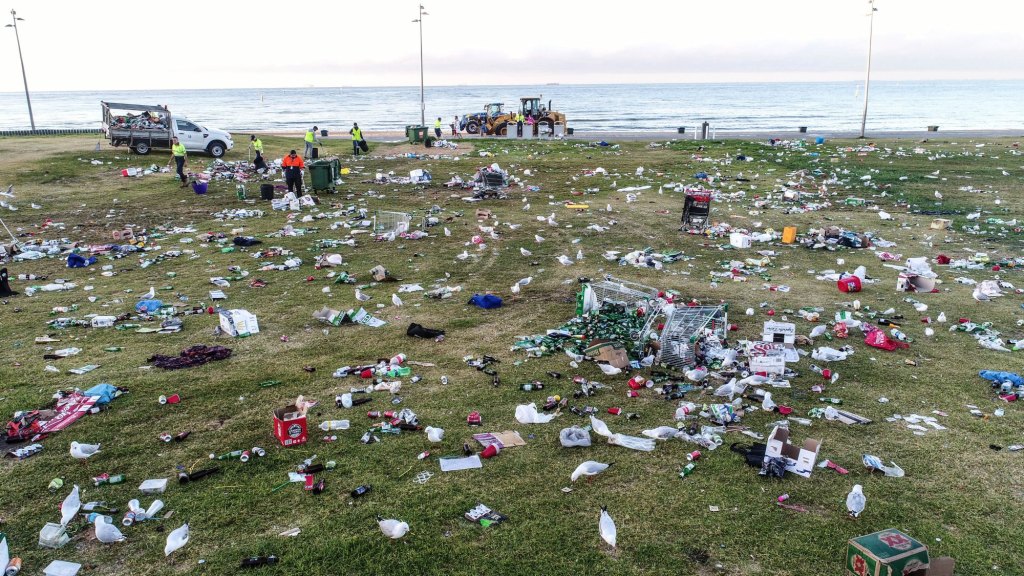 Seasonal alcohol bans return @ St Kilda Beaches
From 1 November until 31 March
Click her for map
Alcohol is banned along the St Kilda Foreshore from 1 November until 31 March.
Port Phillip has a complex set of drinking restrictions that are beyond brief description (and as far as TWiSK can see, rarely enforced) – click here for the official FAQs. 
Having said all that, you can have a civilised drink in a park (except St Kilda foreshore, not on the streets and not on special days like NYE) between mid-day and 8 pm. No wonder you are confused!
These restrictions do not apply to outdoor licensed dining areas or permitted outdoor events.


2021 theatre announcements @ Theatre Works and Gasworks
December
"As the restrictions slowly begin to lift so will our curtains", says Theatre Works General Manager, Dianne Toulson, confirming that Theatre Works will be reopening in January 2021.
"We have a jam-packed season with new shows and an exciting new approach to Covid-normal theatre going."
The 2021 season will be launched with a livestream from their parish hall on 1 December.
Meanwhile Gas Works has announced 15 & 16 January as dates for Circus under the Stars in the Arts Park. Performed by Castlemaine-based ensemble Red Canvas Productions, circus is an all-ages, family friendly circus cabaret show hosted by the songstress Aurora Kurth.
Tickets on sale from the launch of the Gas Works 2021 season on Tuesday 8 December.


Paint Out dates announced @ Gas Works
Saturday and Sunday, 28 & 29 November
Saturday and Sunday, 5 & 6 December
Paint Out is an En Plein Air activity for professional & amateur artists, arty people and nature lovers. Basically, it means painting in the fresh air with a time limit! At the end of each session the completed artworks will be hung in the Foyer Gallery until 10 January, so visitors can enjoy the art. All artworks in the exhibition will be eligible to win one of four $1,000 prizes; tailored to give amateurs and professionals a fair chance of winning.
More info


Learn French online @ Alliance Française
Five week express and booster courses
Study French online with five-week courses starting from 9 November, topics include French & Cooking, French & Wine or A1.1 Discovery (Intensive) for complete beginners. There's also a number of booster courses, including Idiomatic Expressions (B2), Conversation A2: Cinéma français, French Street Slang (B1-B2) and Conversation A1: Chat in French. Oh La la.
Parlez-vous francais? Oui!
Many nervous after early mail on council vote
Early reports from scrutineers have left many council candidates nervously waiting for the complete count and preference distribution this Thursday 5 November.
Until ten all we have are early figures based on counts by scrutineers.
Theese are not official and not checked, and there is no way of knowing how the preferences will flow.
The majority of councillors will be elected on preferences, and the last candidate eliminated can still have 25% support minus one vote – so it can be heart breaking and diabolically unpredictable.
Click for larger version

Gateway Ward
Based on these figures, Marcus Pearl and Heather Cunsolo have reason to be confident while Peter Martin (ALP) and Sami Maher (RoPP) will probably battle it out for the last spot.
Click for larger version

Lake Ward
Based on these figures Katherine Copsey (Greens) and Andrew Bond have reason to be confident, while Christina Sirakoff (RoPP) and Robbie Nyaguy (ALP) will probably wrestle for the final place.
Click for larger version

Canal Ward
(only 500 sample)
Louise Crawford (ALP) is looking good, but the early figures can't say which of these four will get the next two spots: Jo McDonald, Dick Gross (ALP), Rhonda Clark (RoPP) or Tim Baxter (Greens).
Could be a double upset, could be a return of three sitting councillors – impossible to know and hard on the finger nails!
Thanks to Marcus Pearl for the charts.