Bye bye 2020
For our last edition of 2020, we present a month-long view of the local arts, music and community in St Kilda.
There's also TWiSK's personal 5 local highlights from gdaystkilda.
TWiSK will return on Sundays at 7 pm from 24 January with our 250th edition.
Best wishes to all our readers, may your holidays and New Years be full of arts, music and community!


Lights go out at Fyrefly @ Newmarket Hotel
The people behind the Fyrefly music venue have sadly announced that the Newmarket Hotel has made the decision to turn the space into a sports bar next year. 
Words fail TWiSK at times like these.
All we can say is ….
If you have the courage and commitment to organise a local music venue, TWiSK will enthusiastically support you!

Here's a pic with Delicados playing the last gig at Fyrefly


Writers on screen @ The Alex Café
Accidental Writer Episode 1 available on YouTube
The Alex Theatre on Fitzroy Street have invested in some very fancy digital kit that transforms part of their theatre into a digital studio. They've been experimenting with creating local chat shows, first about music and now on writers.
Episode 1 of The Accidental Writer is hosted by authors Dick Gross AM and Susan Berg.
Watch it now (30 minutes) 
Acland Street Blues @ Short Story Winner
Read the winning stories in St Kilda Times
The St Kilda Historical Society has published the winners of their short story competition.
The winning story by Samantha Wilson (pictured) is a ripper rock'n'roll story.
Scroll to page three to read the winning story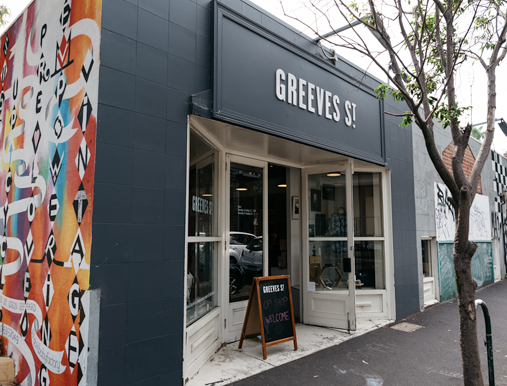 Shop where your purchase makes a local difference @ Greeves St. Op Shop
12-14 Belford Street, St Kilda
The St Kilda Gatehouse supports vulnerable women and girls.
They have an op shop in Belford Street that is open for last minute Christmas gifts, vintage items, gorgeous clothes and homewares until 23 December.
Trading hours and info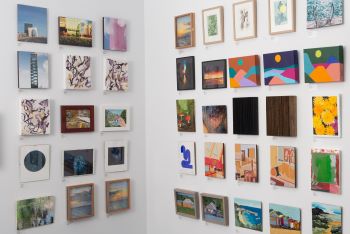 Postcards plus @ Linden
Tuesday – Sunday, 11.15 am – 1 pm and 2 pm – 3.45 pm
The annual Postcard Show has over 1,000 'mini masterpieces' beautifully presented in their great space on Acland until the end of January.
Book your visit
Linden are also continuing online events and activities to explore, including:
Meet the Postcard artists
Wednesday 20 January 2021, 6 pm
Meet the winning artists in conversation with curator, Juliette Hanson;
30th Birthday exhibition curator's tour
A video tour of Linden's first ever virtually curated exhibition. The show features the work of 21 artists who have been past winners in the Linden Postcard Show.
www.lindenarts.org/events/



NGV Kids On Tour @ On Holidays At Linden
Saturday 9 January to Sunday 17 January, free
In partnership with NGV Kids on Tour, Linden has free holiday activities with a Take-Home Art Pack for all ages.
Pick up a free kids art pack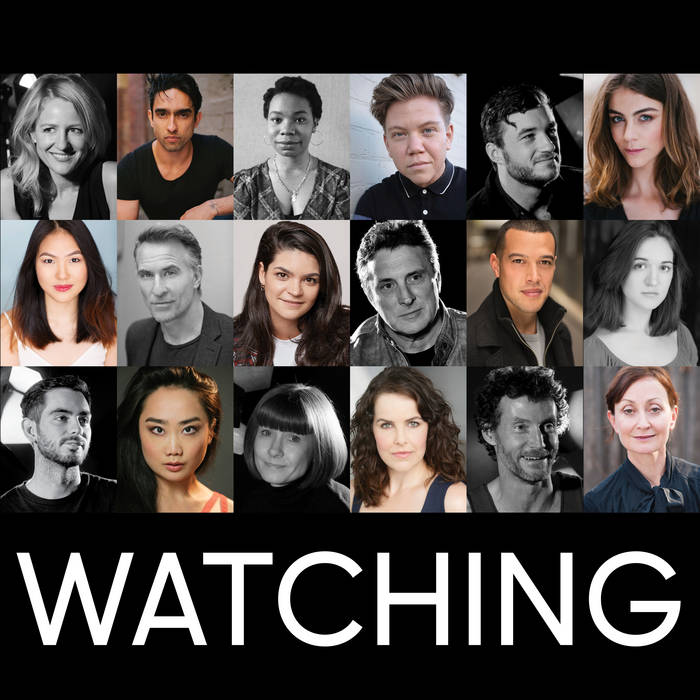 Watching @ RedStitch audioplay
Watching is a new 30-minute audio play, written by Vidya Rajan and Morgan Rose, and voiced by 18 actors from Red Stitch's Ensemble and associate artists.
Listen Now
It's A Wonderful Life @ Astor
Thursday, 24 December, 7.30pm (single feature)
Frank Capra's 1946 Christmas Classic with James Stewart.
Tix
Fiddler on the Roof @ Classic
Friday 25 December, 1.15 pm
Continuing a classic New York Jewish tradition, Classic Cinemas are screening the beloved movie musical Fiddler on the Roof on Christmas Day.
Tix

Die Hard and Home Alone Double Feature @ Astor
Saturday 26 December, 7.30 pm
Christmas brings the strangest things together!
Tix
Glasshouse season announced @ Theatre Works
From 5 January with Fringe Replanted
Theatre Works will be back in 2021with a brand-new way to experience theatre.
See the full 2021 program


Together Again @ Palais Theatre
Starts 8 January
Together Again is a series of intimate, socially distanced shows with 100 fans and artists sharing the Palais Theatre stage.
The artists include Tim Rogers, Pierce Brothers, Big Words, London Topaz, Hayley Mary, Jon Toogood, John Floreani and Ali Barter.
Book now 

Checkerboard Lounge & Paul Williamson's Hammond Combo @ Memo
Friday 8 January, 7.30 pm
Checkerboard Lounge team up with Paul Williamson's Hammond Combo for the first time $35/$25
Tix and info


Ella Hooper @ Memo
Saturday 9 January, 7.30 pm
Rock music songstress Ella Hooper will be in acoustic duo format with Zoe Fox. $30/$35
Tix and info

Bakers Daughter / Alyce Platt @ Memo Ember Lounge
Thursday 14 January, 7.30 pm
After performing at the Perth and Adelaide Fringe Festivals, Bakers Daughter (aka Alyce Platt) is playing up close and personal at our local Ember Lounge. $28
Tix and info
Circus Under Stars @ Gasworks
Friday 15 January, 7.30pm, Saturday 16 January , 4pm
and 7.30pm
Circus Under The Stars is a circus cabaret show for the whole family presented outdoor in Gaswork Arts Park.
Friday night discount for Port Phillip residents $30 ph. $40/$35
Gaswork summer program and tix



Fanny Lumsden: Fallow Album @ Memo
Friday 15 January, 7 pm
ARIA award winner and three times Golden Guitar nominee, Fanny Lumsden and her incredible band celebrates the release of their latest album. $50 – $23
Tix and info



Mick Harvey @ Memo
Saturday 16 January, 7 pm
Mick Harvey needs no introduction – this is special. $65
Tix and info



Tex Perkins & Matt Walker @ Memo
Sunday 17 January, 5 pm
What could be better than Tex in the afternoon?
Tex and Matt of course. $45/$50
Tix



Rob Snarski with Shane O'mara 'Live & Intimate' @ Memo
Saturday 23 January, 7 pm
How good is this? $65/$40 also livestream $15
Tix and info



Bondathon @ Classic
From 10 January
Every Sunday and Wednesday night at 007 pm the Classic Cinemas are screening every Eon Productions-official Bond film.
Dr No, Sunday 10 January
From Russia With Love, Wednesday 13 January
Goldfinger, Sunday 17 January
Thunderball, Wednesday 20 January
You Only Live Twice, Sunday 24 January
Tix and info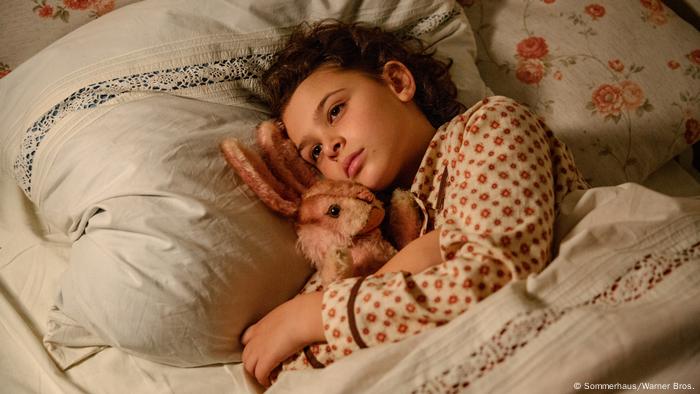 When Hitler Stole Pink Rabbit @ Classic Cinema & JIFF 
Sunday 17 January, 4 pm
Tickets are now on sale for the Jewish International Film Festival (JIFF) 2021 Program Launch event — the Australian Premiere screening of When Hitler Stole Pink Rabbit.
Tickets are now on sale at jiff.com.au
JIFF screens nationally from 17 February – 17 March.

Coming soon @ Astor


Session Details


#1 The first We-Akon Dilinja ceremony
 As the sun rose on Australia Day hundreds gathered at Alfred Square St Kilda for the first We-Akon Dilinja ceremony. The sombre yet positive ceremony gathered the community to commemorate and celebrate the rich and diverse culture of the First People of this area.

#2 Freya Josephine Hollick and Cash Savage @ St Kilda Festival
Sometimes the St Kilda Festival is over rated (just too many people and not enough focus), but on this sunny pre-COVID February day I was a convert, local country style 
Freya Josephine Hollick channeled Dolly Parton in St Kilda via country Victoria and Joshua Tree California. Hers was an authentic, joyous romp before a crowd of about 80 people almost first up on the schedule. Classy troubadour. 
Then Cash Savage and The Last Drinks took to one of the bigger stages with a thrashing boom. 
This was power troubadour. Honed by years in country pubs, Savage was simultaneously a proud and angry performer. In a pub, this would have lifted the roof and rocked the neighbours!
Where else could you get both Freya and Cash on the one date?

#3 St Kilda, our home
What a lucky bubble we had. 
Fresh air and beaches. Parks and places to walk the dogs.
Teddy bears in windows. Spoons with faces.
Takeaway coffees.
Conversations in the park.
Curfew quiet – those Harley riders must live more than 5 kms away 🙂
 
#4 Feldman Family's short film: Wish Fish

TWiSK was proud to publish this family film entered in our My ISO St Kilda competition.
"Hi this is a little film we made about our iso experience. The whole family of six were involved in making this project. It's a great time capsule for us now."
And TWiSK agreed. This tiny film captured the mood, the seasons, and the pause for joy that ISO #1 offered.
Fish Wish from Zoe Arnott on Vimeo.


#5 Local heroes one and all
The posties. The supermarket workers. The COVID testing crews.
The neighbours who looked out for each other.
The local businesses that kept on going.
The crews that kept the beaches and parks tidy.
People who rang others just to say gday.
Those who chatted to strangers.
The teachers, the kids, the parents.
Those that read TWiSK because they cared.

Remember that while 2020 is over, COVID is not.
Big smiles from TWiSK.
Previous editions