Heart of St Kilda Concert @ Palais
Tuesday 23 October, 7.30 pm.
Archie Roach, Kate Ceberano, Bob Franklin, Tex Perkins and the Fat Rubber Band and more.
Tickets via Ticketmaster or 136 100.

Suddenly Last Summer @ Redstitch
Until 4 November
Savagely poetic and provocative, Tennessee Williams' Suddenly Last Summer is a nightmarish contemporary masterpiece of Southern gothic melodrama.
Tix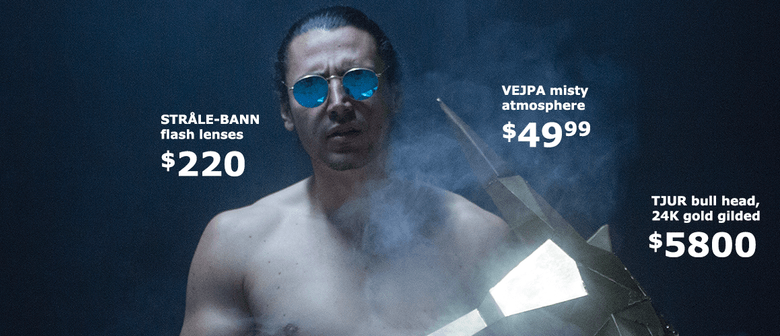 The Market is a Wind-Up Toy @ Theatreworks
23 October – 28 October
The market has collapsed, leading economists are jumping out of skyscraper windows, the golden bull has been put down. Arvid Flatpack has to fix it.
Tix

Land art generation initiative @ Acland Street Plaza
Until Sunday 28 October
Art meets renewable energy in a futuristic imagining of the St Kilda Triangle. See the work of finalists in an international design competition for the creation of an art installation that generates clean energy.
Free
sustainableportphillip.com

Adriano Celentano Tribute Show @ Palais
Thursday 25 October
Maurizio Schweizer's tribute to Italian star Adriano Celentano
Tix

The Australian Burlesque Festival @ Alex
Thursday 25 October – Saturday 27 October, 8 pm
New Follies Burlesque is the 'Emerging Burlesque Performers Contest' event of The Australian Burlesque Festival: The biggest celebration of burlesque in the Southern Hemisphere. Adult 18+ only.
Tix

Jack Howard's Epic Brass @ Memo
Friday 26 October, 7.30 pm
Jack Howard's Epic Brass is a celebration of the great horn hits and hidden gems of Australian rock. $25 at door
Tix

Spellbound – Melbourne Gay and Lesbian Chorus @ Memo
Saturday 27 October, 2.30 and 7.30 pm
Following the success of 'Christmas Cracker' in 2017 and 'Boyz II Girlz' in 2018, MGLC  present their next cabaret spectacular. $25 at the door
Tix

Songs of Linda Ronstadt @ Memo
Sunday 28 October, 2 pm
With Jane Clifton, Clare Moore & Rosie Westbrook. It's so easy to fall in love with Linda … $30
Tix

Relay For Life @ Albert Park Lake
Saturday 27 October – Sunday 28 October, 10.30 am – 10.30 am
Relay For Life is a community fundraising challenge that raises vital funds for cancer patients. Friends, families and colleagues are encouraged to join forces and team up to raise funds.
relayforlife.org.au
1300 65 65 85

Cecil Noir Twilight Ride & Pedal-powered Cinema
Saturday 27 October, 6.00 pm
Ride in style from Fitzroy Street, past Albert Park Lake and along the lovely Cecil Street bike route. The ride ends at South Melbourne Market with a screening of the Academy award nominated French animation Triplets of Belleville (PG). Bookings essential.
For more information about the ride and other events visit: Tour de Cecil: A Festival of Everyday Bike Riding.
State election forum @ Alex
Monday 29 October, 6.30 pm
Organised by local community groups to meet candidates for the State seat of Albert Park, including Martin Foley MP, Liberal Andrew Bond, Greens Ogy Simic and Animal Justice Party Tamasin Ramsay and Reason Party Jarryd Bartle.
Free event, no tickets, no registration, just turn up.
Info
135 Fitzroy St