Open House Melbourne comes to St Kilda next weekend 28/29 July – TWISK has a special local list.
Plus Desperately Seeking Susan @astor_theatre, Ben Howard @PalaisTheatre, Bashevis Singers @memomusichall, The Menagerie: Burlesque @AlexTheatreStk and Winter Tales from the Grave Tour @ St Kilda Cemetery.

Open House Melbourne @ St Kilda
Saturday 28 and Sunday 29 July 10 am – 4 pm
From the sacred to the iconic and everything in between. Some of St Kilda's most talked about buildings are open as part of Open House Melbourne – don't miss your chance for an insider's look.

CHRIST CHURCH, ACLAND STREET
Sat 10 am – 4 pm & Sun 1 pm – 7 pm
Organist and organ conservator Ken Falconer will speak about the organ on Saturday 28 July at 10.30 am and 3 pm.
On Sunday 29 July at 5 pm, two teams will debate "That the church is not worth saving" as part of fundraising towards the restoration fund.
Info

ALL SAINTS CHURCH, EAST ST KILDA
Sat & Sun 10 am – 4 pm
Info

WESTBURY STREET ROOFTOP GARDEN
Sat 10 am – 4 pm
Rare chance to see this roof top oasis atop a private housing block
Info

EDGEWATER TOWERS
Sat 10 am – 4 pm
Billed as New York living comes to St Kilda, Edgewater has been a much talked about feature of St Kilda's skyline and home to many colorful characters.
Info

THE ASTOR THEATRE
Sun 10 am – 5 pm
Famous for the movies, the cat and lost fur coats
Info

ESPLANADE VAULTS
Sat & Sun 10 am – 4 pm
Odd and rarely open.
Info

SACRED HEART CHURCH
Sat 10 am – 4 pm
You've been to the op shop, now see inside the church
Info

LUNA PARK
Sat 3 pm –  5 pm
Bookings required for this building – will be sold out
Info

ST MICHAEL'S GRAMMAR SCHOOL – THE GIPSON COMMONS
Sun 10 am – 4 pm
Rare opportunity for high school kids to see how the other half learns.
Info

JEWISH MUSEUM
Sun 10 am – 5 pm
Info
www.openhousemelbourne.org

Ben Howard @ Palais
Tuesday 24 July and Wednesday 25 July
Two-time Brit Award winner, English singer-songwriter Ben Howard with his new album Noonday Dream
Bookings

Desperately Seeking Susan @ Astor
Thursday 26 July, 7.30 pm
Part of the MEL & NYC series. Adventures in the big apple with Rosanna Arquette and Madonna in 1985 style.
Bookings
Real Estate Sleep out @ St Kilda Beach
Thursday 26 and Friday 27 July
An event to raise awareness and much needed funds for Father Chris Reilly's charity, Youth Off the Streets.
Donate

The Bashevis Singers – Album Launch @ Memo
Saturday 28 July 7:00pm
The Bashevis Singers have Yiddish in their blood. Husky Gawenda and his cousin Gideon Preiss are renowned Australian musicians and award winning song-writers. $45/$40
Bookings

Winter Tales from the Grave Tour @ St Kilda Cemetery
Sunday 29 July, 2.00 pm
Hear about St Kilda's first mayor; a military person who came on 2nd Fleet to Sydney; Gough Whitlam's grandparents and much more on this winter walk through the Cemetery. Meet at main gate Dandenong Road; $10 includes a cuppa
Bookings info@foskc.org or 0422 379 053

The Menagerie: Burlesque @ Alex
Sunday 29 July, 7.30 pm
An intimate and decadent evening of sultry and scintillating burlesque and variety artists. Melbourne's newest little Speakeasy.
Tix and info
Ongoing


The Antipodes @ Red Stitch
Until 12 August
"There's something thrilling about a new play by Annie Baker," The Age
A top-notch writers room is in lock-down, in pursuit of the ultimate story. Don't delay, the last Red Stitch season sold out!
Tix and info

PUFFS extended @ Alex
Until Sunday 12 August
PUFFS has been extended so you can catch more of the magic. The Saturday and Sunday matinee shows have been 'lightly transfigured' so that wizards ages 8 and up can share in the magic of PUFFS and parents can relax knowing their kids won't learn any new curses!
Tix and info

Urban Dreaming & Memories and Encounters @ Carlisle Street Arts Space
Until Wednesday 8 August
Monday, Tuesday, Wednesday and Friday, 8.30 am – 5 pm; Thursdays 8.30 am to 7 pm during exhibitions
Robert Lee Davis and Gabrielle Khazam (artwork above) present an abstract expressionist exploration of narratives that traverse time and space.
99a Carlisle Street, St Kilda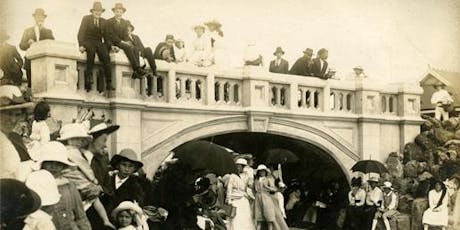 Celebrating Carlo Catani @ St Kilda Town Hall
Unti Monday 30 September
A display celebrating the life and work of engineer and local foreshore designer Carlo Catani. Free.
heritage.portphillip.vic.gov.au