This Week in St Kilda #300
300th edition
The first TWiSK was published on 29 February 2016.
Now almost six years later we continue to bring you a locals guide to local events in arts, music and community every Sunday evening – rain, hail or COVID!

Please share your TWiSK with friends
It's free, proudly independent and very local
Forward TWiSK to your friends, and let them know they can sign up here.
TWiSK is always free, proudly independent and totally self-funded

Freedom is Mine exhibition @ Victorian Pride Centre
Until 20 April, 9 am – 6 pm Monday to Saturday, 10 am – 6 pm Sunday
Just opened on Friday: An important and timely exhibition of portraits by photographer Peter Casamento presenting LGBTIQ+ people seeking asylum. Part of the 2022 Midsumma Festival program.
Free, no booking required.
Info


Multilingual Beach Surveys @ EcoCentre at West Beach
Tuesday 25 January, 9.30 am and 11.30 am
Explore West St Kilda Beach with the Port Phillip Bay Keeper supported by Multicultural Bay Ambassadors, interpretations are available in Chinese Mandarin, Polish, Sinhalese, Spanish and Japanese.
Native Plant Survey 9.30 am- 11 am
See what kind of native plants thrive on the sandy dune habitat of St Kilda West Beach 
Book 
Biodiversity beach survey 11.30 am – 1 pm
Find out what shellfish, sea stars and other creatures live on sandy beaches and intertidal habitats.
Book 


Ross Wilson Eagle Rock – 50th Anniversary Tour @ Memo
Tuesday 25 January, 7 pm & 9.15 pm
Daddy Who? Daddy Cool. A tour by the daddy himself Ross Wilson to mark the 50th anniversary of Eagle Rock. $60 / $45
Tix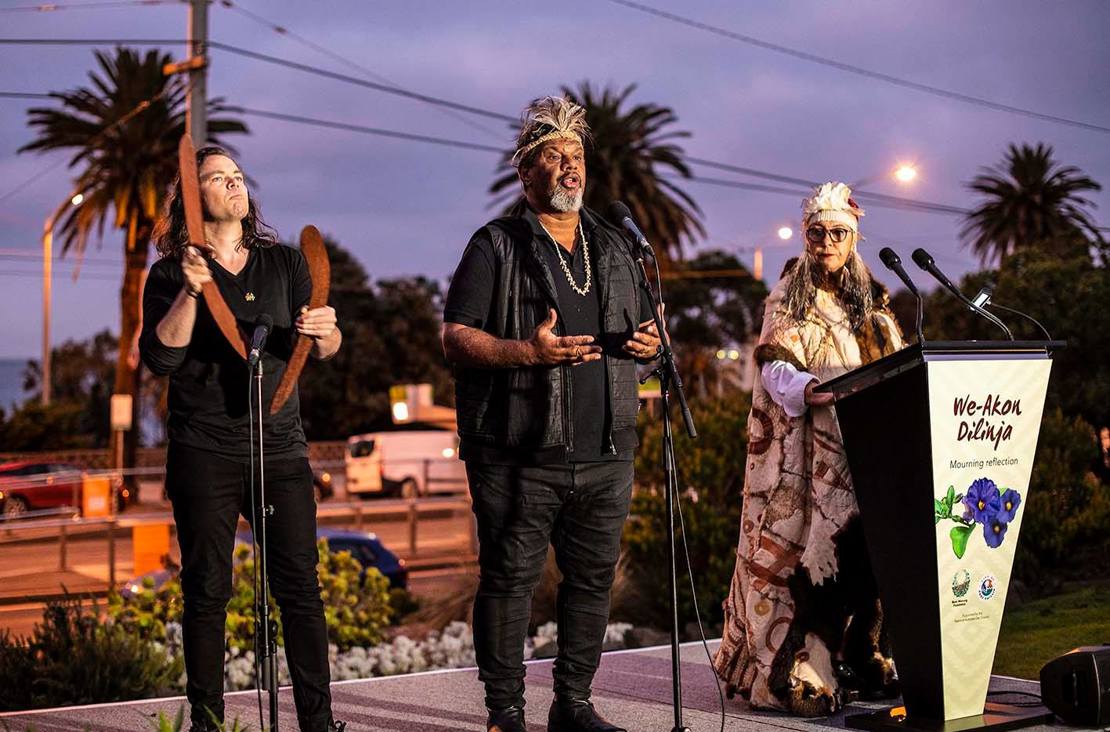 We-Akon Dilinja – a mourning reflection event @ Alfred Square
Wednesday 26 January, 6 am – 7 am
For the third year, 26 January will dawn in Port Phillip with an Indigenous ceremony featuring the culture and history of the Boonwurrung Traditional Owners conveyed through readings, music and a smoking ceremony.
A multi-faith component adds to the inclusive spirit of the event. Free
Please book  | Livestream 
After this year's ceremony, Cr Pearl will officiate at the traditional Australia Day Citizenship Ceremony at the St Kilda Town Hall where 100 conferees from 31 countries will become citizens.
Due to COVID-19 capacity restrictions, attendance is invitation only.


Bachata Corazon Aus Day outdoor social @ Catani Gardens
Wednesday 26 January; 2.30 pm – 6.30 pm
An outdoor informal event, everyone is free to come and leave anytime they want.
Enjoy music and dancing with a playlist with 70% bachata and some Salsa/Kiz/Zouk. Free
Facebook


Scott Darlow & Chasing Ghosts @ Espy
Wednesday 26 January, 7.30 pm
Aboriginal led punk rock band Chasing Ghosts team up with Yorta Yorta rocker Scott Darlow, supported by special guest First Nations artist KIAH. $27
Tix

Qoya now also for teens @ Sun Ranges Qoya
Wednesday nights: Teens 5.15 pm and Adults 7.15 pm
Qoya classes are back for 2022! Qoya (pronounced K-oya), is a free dance embodiment practice for women and girls, regardless of gender assigned at birth. The classes are a place for you to come as you are, to embrace yourself, to let loose and to find the most pleasurable ways to move your body. First class free!
www.sunrangesqoya.com.au/classes
Jibasso (upstairs at African Drumming) 252 St Kilda Rd, St Kilda


Dalicados @ George Lane
Friday 28 January, 6.30 pm – 11.30 pm
Dalicados are a six piece with remarkable songsmith James Lomas as lead vocalist and guitarist; Cal McAlpine on drums and Mark Carson on double bass; backing vocals, dance moves and percussion provided by Tracey McAlpine and Fiona Lee Maynard, with Jack Howard (Hunters & Collectors) on trumpet.
Tix and info

The Sense of an Ending @ Stranger Gallery
Friday 28 January – Sunday 30 January, 12 noon -6 pm
Opening night Friday 28 January, 6pm
The Sense of an Ending is born of personal memories and emotions.
It is the culmination of Sharon McClure's research-based project for her Masters in Photography @pscmelb.
McClure explores the myths of memories; of forgetting; of the density of our feelings; of our obligations to the ghosts of the past.
www.strangergalleryandstudio.com.au
11b/60 Fitzroy St, St Kilda
(hidden behind 5th Province )


Even @ Espy
Friday 28 January, 8 pm,
Even has a great new album to celebrate, their best-ever ARIA Album Chart debut (#18) and a Double J Feature Album for their first-ever Double-LP Reverse Light Years. $33
Espy gigs


Mrs Prime Minister @ Memo
Friday 28 January and Saturday 29 January, 7.30 pm
Sunday 30 January, 1.30 pm
An evening of songs and stories about seven women: Tamie Fraser, Bettina Gorton, Hazel Hawke, Zara Holt, Annita Keating, Sonia McMahon and Margaret Whitlam, wives of the Prime Minister and residents of The Lodge, Canberra 1966-96.
Iconic Melbourne singing actors Sally Bourne, Jane Clifton and Fiona Thorn, accompanied by the Adelaide Avenue Trio featuring Ana Mitsikas, perform jazz inflected songs by John Thorn (Spontaneous Broadway) and Terence O'Connell (Minefields And Miniskirts: Australian Women And The Vietnam War).
Tix

Sing A Song For Sixpence @ South Melbourne Town Hall Reserve
Friday 28 January, 3 pm – 5 pm
Experience songwriters 'in the round' at this very special outdoor event. Join Delsinki, the Melbourne singer-songwriter-multi-instrumentalist, brings together some of Melbourne's best artists and instrumentalists to give audiences a rare insight into the magic of the creative processes. Free
Info

John Williamson – My Australian Stories @ Palais
Friday 28 January, 8 pm
Like a tumbleweed across this vast continent, John Williamson has traversed the country from east to west and north to south. $128 +
Tix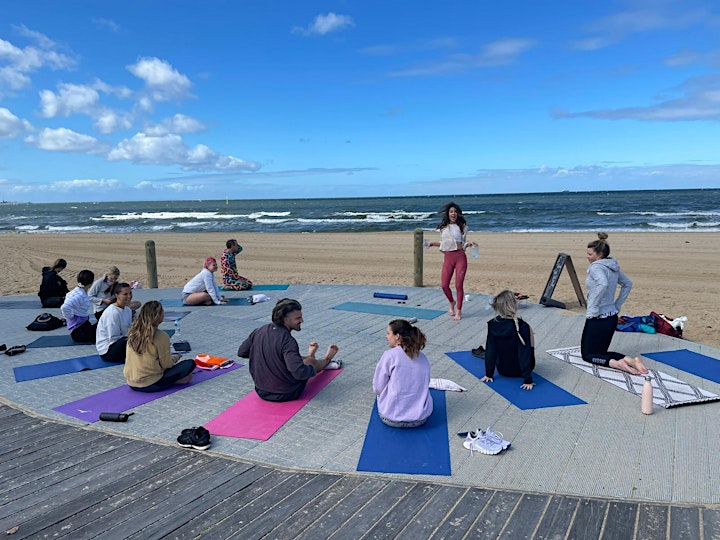 Feel good flow Yoga @ St Kilda Beach
Saturdays 9 am
Feel Good Flows heads to the beach every Saturday Morning 9 am for Summer.
(Weather dependent alternate venue studio 1B/60 Fitzroy Street, St Kilda).
All classes are designed for the individual; so if you're a newbie – you are in good company.
Fees are as you choose, (average being $15) ensuring no one is left behind.
Bookings 

Harvest Moon – A Neil Young Tribute with J.D Delves @ George Lane
Saturday 29 January,6.30 pm & Sunday 30 January 4 pm
50 years on from 'After The Gold Rush' on the 75th year of the great man's birthday, George Lane welcomes Neil Young in the form of J.D. Delves with his three piece band 'Harvest Moon'
George Lane gigs

Mamma Mia – The Ten Sopranos @ Palais
Saturday 29 January, 8 pm
Australia's best musicians accompanied by an ensemble of Melbourne's finest orchestral musicians, combined with the most powerful all-female vocal group in Australia, The Ten Sopranos – hubba hubba Mamma Mia!
Tix

Meet The Artists @ Linden Postcard Show
Sunday 30 January, 11 am – noon
Join this year's Linden Postcard Show 2021-22 winning artists in conversation with curator, Juliette Hanson.
Learn about their practice, artistic process, and their connection with the iconic Linden Postcard Show.
Info and links
Also at Linden:
Confined > Neroli Henderson, Hernan Lopera & Kate V M Sylvester
Until 30 January

Affordable Art Show @ Space2b
Until Sunday 29 January
In Partnership with Artisan Society with nothing over $300!
Info
Unsold sale 31 January!
Insta | FB

Elwood Kitchen Library @ Elwood Neighbourhood House
Open on Thursdays and Saturdays, the Library is ready take your orders for your next party or family bake-off!
Join to access to over 300 kitchen appliances, including a Kitchen Aid, waffle makers, cookbooks and more. There's also offer zero-waste party packs, for both adults and kids alike.
Become a member and see what you can borrow 

Australia Day alcohol ban
A city-wide alcohol ban will be in force across Port Phillip's public spaces for Australia
Day. The ban applies from 8 pm 25 January until 12 pm 27 January.

E Scooter trial starts soon
Port Phillip has signed up to the Victorian Government trial alongside City of Yarra and City of Melbourne, with 500 branded e-scooters distributed across each city for use on bicycle lanes, bicycle paths, shared paths and roads.
E-scooters will be contained to these metro areas through the use of geofencing and a 20km/h speed limit will apply.
E-scooter riders should behave the same way as bicycle riders and slow down to give way to pedestrians. E-scooters are not permitted on footpaths and roads where there is a speed limit above 50km/h.
More info
Entries close 31 January @ St Kilda Film Festival
Don't miss your chance to submit your short film for consideration in the 2022 St Kilda Film Festival program.
St Kilda Film Festival is also an Academy Awards® qualifying event and award-winning films are eligible for consideration in the Oscars®.
www.stkildafilmfestival.com.au

Greg Day
Happy to chat anytime 0418 345 829
Content suggestions and community questions are always welcome.
gday@gdaystkilda.com.au
Recent editions
Monday 17 January – Sunday 23 January
Monday 20 December – Sunday 9 January
Monday 13 December – Sunday 19 December

This Week in St Kilda respectfully acknowledges the Yaluk-ut Weelam Clan of the Boon Wurrung.
We pay our respect to their Elders, past, present and emerging. We acknowledge and uphold their continuing relationship to this land.