Opera, art, music and politics
Just another This Week in St Kilda
This Week in St Kilda #272

Looking for 12 inspiring views @ Carin Lavery calendar 2022
Coco's Lunch 'Misra Chappu' Album Launch @ Memo
Amani Haydar's first commercial exhibition
Like this page?
Forward it to your friends, and let them know they can sign up here.
TWiSK is always free, proudly independent and totally self-funded

All dates subject to COVID updates!
Fingers Xed



Lorelei opera @ Palais
Tuesday 29 June – Friday 2 July
"An alluring operatic cabaret for a woke world."
A Green Room Award-winning work created by some of Australia's most ingenious musical minds and performed by a trio of divas to die for.
Tix


Leila Ashtiani & Karen Hopkins: 'Unity The Way Forward' @ Space2b
Closing night celebration: Thursday 1 July, 6 pm – 8 pm
Meet the artists: Saturday 3 July, 10.30 am – 12.30 pm
Face2Face is a series of collaborative works, painted by two artists from different cultural backgrounds teaming up to explore and share their chosen theme.
More info
Until 5 July



Amani Haydar: 'The Light in Her Eyes' @ MARS
Wednesday 30 June – Sunday 11 July
Amani Haydar's first commercial exhibition presents a unified image of loss, resilience, and female strength. This exhibition will also coincide with the release of her first memoir, The Mother Wound.
marsgallery.com.au
In Conversation
Wednesday 7 July, 6 – 8pm,
Hear Amani Haydar and Nyadol Nyuon in conversation, discussing 'The Light in Her Eyes' along with the themes, content, and process behind Amani's first memoir, The Mother Wound.
RSVP essential 



Ngirramini, Yimunga, Murrakupupuni (Story, Tribe, Country) @ MARS
Wednesday 30 June – Sunday 11 July
The work of six dynamic emerging and senior artists from of the Tiwi Islands in an exhibition of new work
marsgallery.com.au
7 James Street, Windsor
10 am – 4 pm Tuesday to Saturday



Didirri @ Espy
Thursday 1 July, 7.30 pm
Didirri will be introducing his new band members, new songs and celebrating his triple J Like A Version contribution. $33
Tix



End of the Line – The Music of the Traveling Wilburys @ Memo
Thursday 1 July, 8 pm
Wilbury tribute fun with Brian Mannix, Nick Barker, Bernard Curry, J.R.Reyne & Taylor Sheridan.$65 / $45
Tix



Jeff Lang: An evening of words and music @ Memo
Friday 2 July, 7.30 pm
To celebrate Jeff 's new book this show will combine music with an 'in conversation' and Q&A session. $35 / $25
Tix



Creedence Clearwater Revival with Ramble Tamble @ George Lane
Friday 2 July and Saturday 3 July, 6 pm – 11 pm
Celebrate American Independence Day with classy four-piece band, Ramble Tamble.
Tix



Grand Wazoo's 40 Years of Soul Party Show @ Memo
Saturday 3 July, 7.30 pm
The mighty 13-piece Grand Wazoo – Kings Of Soul celebrate the band's 40 years of soul, with a party show. $55 / $45
Tix


Eucharist & fellowship: Christ Church St Kilda
4 July
9 am Parish Eucharist
11 am Gathering for fellowship
14 Acland Street



Coco's Lunch 'Misra Chappu' Album Launch @ Memo
Sunday 4 July, 2.30 pm
Coco's Lunch, Australia's multi award-winning purveyors of the A cappella art, launch their internationally acclaimed new album Misra Chappu. $45 / $25
Tix



Phil Manning (Chain) @ George Lane
Sunday 4 July, 4 pm – 8 pm
Phil Manning, lead guitar for legendary band Chain, will be appearing at George Lane for this special Sunday show.
Tix



Checkerboard Lounge + Opelousas (Double Bill) @ Memo
Sunday 4 July, 6.30 pm
The two hottest acts in Australian blues and roots today, team up for a night of fire and earth, celebrating their unique take on the evolution of music. $35 / $25
Tix
Ongoing
Singing Swallows @ Theatreworks
Until 4 July, various times 11 am, 6.30 pm and one 2 pm
SCHOOL HOLIDAY IDEA: An early start to understanding the Holocaust, connecting to young people's lives through voice recording and visual storytelling.
Tix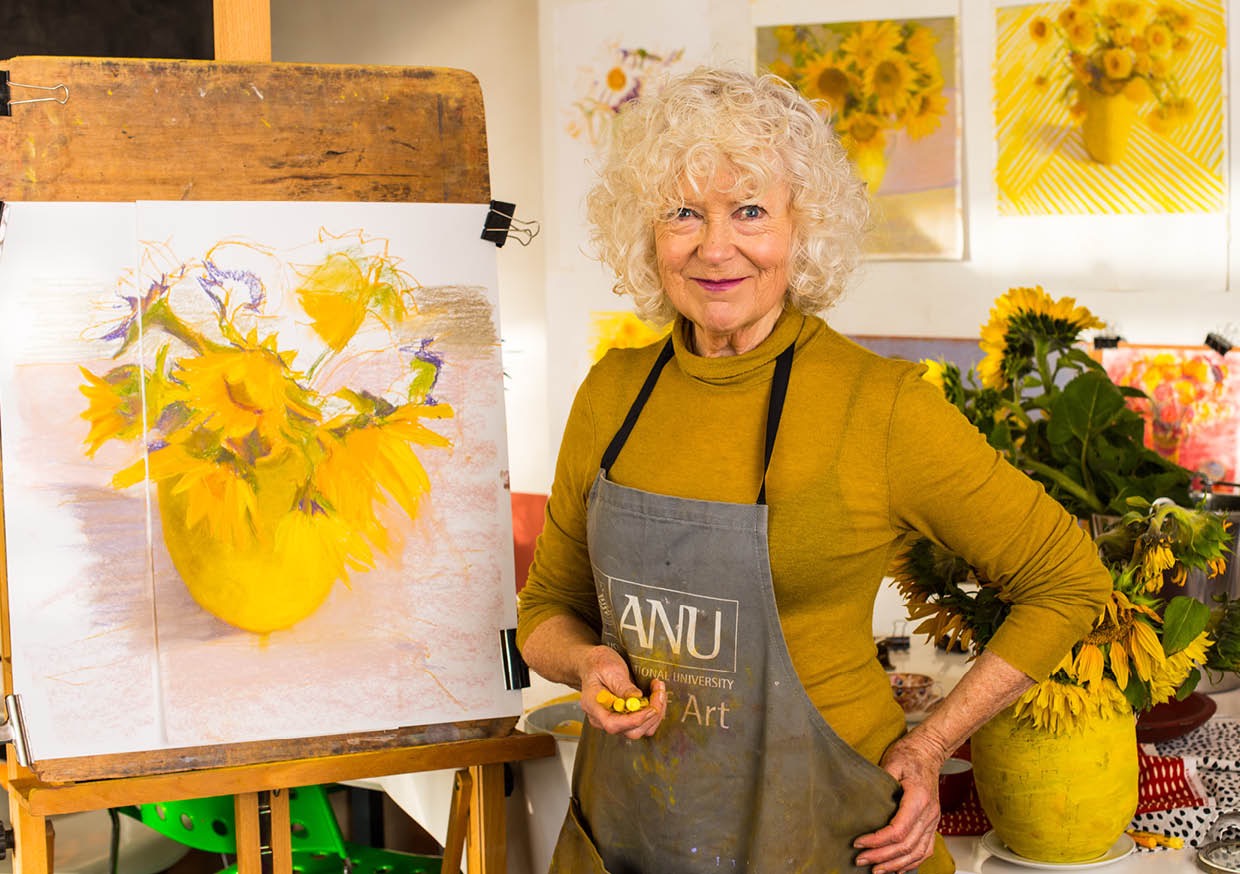 Prue Acton Yellow Works @ Brightspace
Until 9 July
Gallery open by appointment: Email kylie@brightspace.com.au
ARTIST TALK: A tour of the show with Prue Acton
Saturday 10 July (2pm), free
Book tickets 
HIGH TEA: Prue Acton in Conversation with Jacinta Parsons
Sunday 18 July (2 pm – 4 pm):
A sumptuous sit-down affair, with bubbles on arrival, delicious afternoon tea, and a wonderful conversation with Prue and Jacinta. $44
Ticket sales from this event donated to Artists for Kids Culture.
Booking essential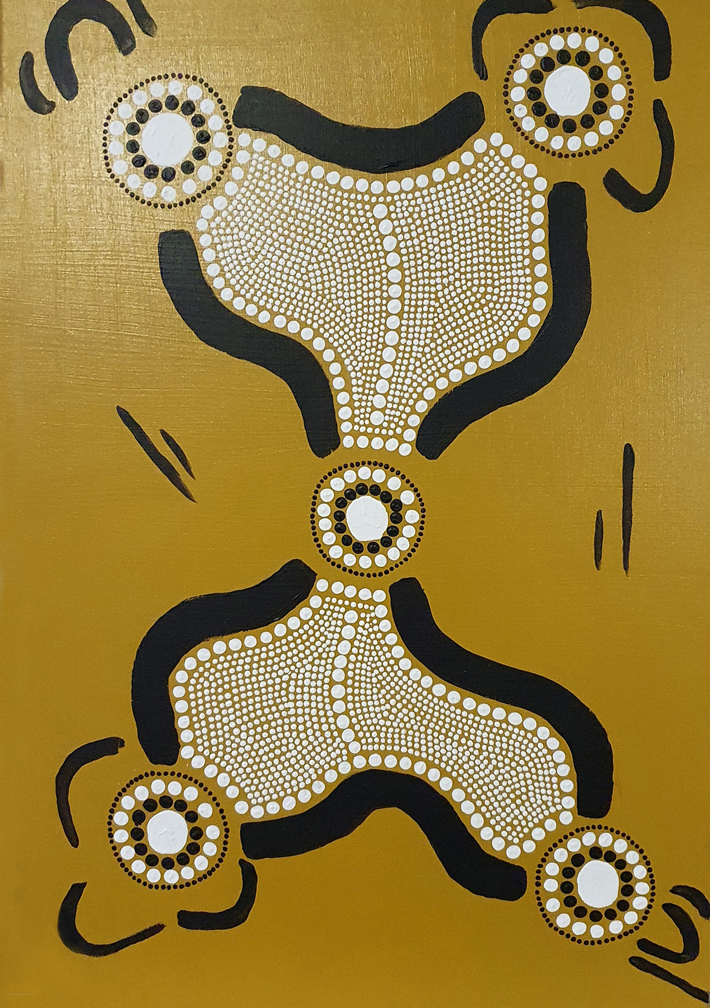 Galiamble and Winja Ulupna Exhibition @ Carlisle Street Art Space
Exhibition until 14 July
Works by artists from the St Kilda based Galiamble and Winja Ulupna Recovery Centres.
More info
Image: Shannon Bausch Coming Together – Father and Son 2021



Iphigenia in Splott @ Red Stitch
Until Monday 19 July
Delayed by COVID restrictions, Iphigenia in Splott finally arrives with Jessica Clarke delivering a powerful and provocative solo performance as Effie, an unlikely warrior hailing from the Welsh working class district of Splott.
Limited seating under capacity restrictions, so book now to avoid missing out.
Tix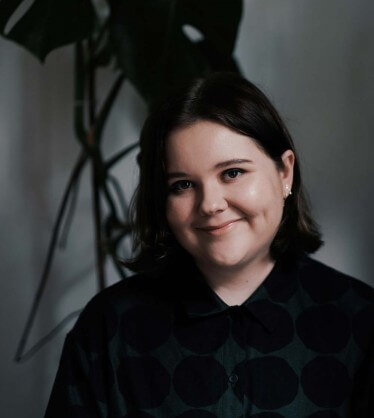 Anna Révész > Architecture of Memory @ Linden Project Space
Extended until 18 July
 Anna Révész practice encompasses drawing, painting and sculpture, with a particular interest in photography.
"For this work, I collaborated with an emerging dancer, Darci O'Rourke (Australian Dance Theatre), to explore how, through movement, the body might reconstruct the spaces it has occupied or passed through." Anna Révész
Info
Projects Space is not wheelchair accessible.
Soon
Relief for India @ Heroes Lounge, Level 1, St Kilda RSL
Saturday 10 July, 5 pm – 9 pm
A fundraiser for GiveIndia supporting COVID Care Centres in Mumbai, Delhi, Bangalore, Chattisgarh and other cities.
With Geoffrey Conaghan, Commissioner to India for the Victorian Government 2009 – 2013 as MC, the evening will have famous Sitar players and musicians, wonderful Bollywood dancers, colourful Indian entertainment, scrumptiously delicious Indian food all evening long, beverages at bar prices. plus amazing door prizes. $100
Tix

Looking for 12 inspiring views @ Carin Lavery
Local artist Carin Lavery is inviting you to be part of her 2022 St Kilda Watercolour Calendar.
Last year, Carin created a 2021 St Kilda watercolour calendar, giving all profit ($3,460) to a local domestic and family violence program.
For her 2022 calendar she wants to paint your favourite view of St Kilda's nature.
All profit from the 2022 calendar will be donated to St Kilda's Space2b Social Design program Space2Fly  which supports newly arrived migrants, refugees and people seeking asylum to start their own enterprise to become financially independent.
See her website for details about submitting your favourite view of St Kilda.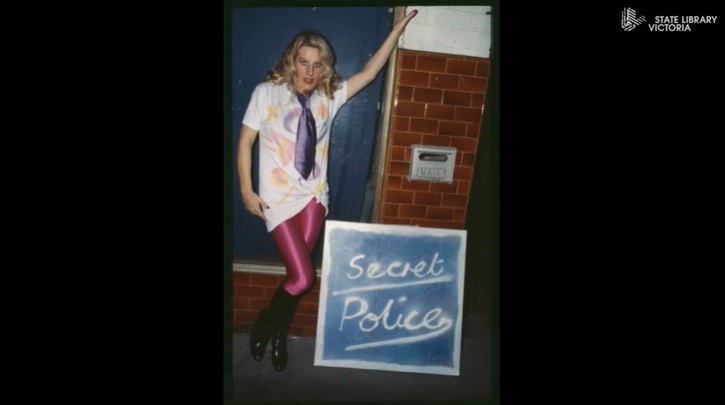 Alternative reality – St Kilda and its music scene in the 1970s and 80s @ SLV online
15 minutes of time travelling 
A video exploration of the State Library's treasures recording the St Kilda music scene back in the day. 


Council budget: More or less the same
Last week Council approved the budget for 21/22 with some important amendments to the published draft.
$135M will be collected from rate payers to be part of the Council $237M budget. Overall, the budget predicts a $5M cash surplus. The rate has risen by 1.5% in line with the cap set by the State government. However, the contribution from residential ratepayers will rise by 4.5%. The change to your rates will depend on the relative value of your property.
Some proposed cutbacks got the chop
While most of the cutbacks proposed in the draft were approved, two significant changes were made, namely:
Continuing residents free access to the Rippon Lea gardens;
Delaying cut to childcare quality subsidy by one year until 22/23.
Other budget changes approved by council included:
Continuing the FOGO trial for Elwood for another two financial years ($225,000)
One year's extra support for six arts organisations whose triennial funding had ended $30K each = $180K).
Targeted hardship support
Recognising additional hardship, Council increased the pensioner rates rebate from $175 to a maximum of $200 and lifted the hardship rates waiver from $1000 to $1500, including for those who lost their jobs due to COVID-19 (only for 2021/22 and subject to eligibility in both cases).
Support for Port Phillip Community Group's food program was also extended by three months.
Port Phillip media release

Rate increase divides councillors
The electoral success of the Ratepayer activists in the 2020 Council elections has delivered a predictably polarised debate on rates and spending.
This was played out in the Council budget decisions on Wednesday last week, where most decisions were passed by five councillors (ALPs Crawford & Martin, Greens Baxter & Copsey with independent Consolo) and opposed by four (Ratepayers Sirakoff & Clark, independent Liberals Pearl & Bond).
ROPP's President Campbell Spence told TWISK that RoPP were disappointed that Councillors did not support a rates freeze when Council was forecasting a $14 million operating surplus, an additional $2.3 million of rates revenue from new properties and a $4.4 million cash surplus.
"If not this year, when would Councillors support rate relief for all residents and businesses. Crs Bond, Clark, Pearl and Sirakoff supported their constituents by voting against the motions for the rate rise, unrestrained spending, handouts from the $4.4m cash surplus and a hardship motion because the eligibility criteria were not clearly defined and the program was not properly costed as noted by council officers," he said.
Greens Cr Tim Baxter said on Facebook "As with any budget, it's a mixed bag, but I am proud to have voted for a budget that supports COVID recovery, continues to invest in what makes our city wonderful, and plans for the future."
Mayor Cr Crawford said "This Budget is about assisting the most vulnerable, and our local economy, as we deal with the lingering hardship of the pandemic. This includes an additional $200,000 for business support and economic development."
What next for minority councillors?
The minority councillors have so far focused their efforts on securing a rate increase freeze – last week's council meeting rejected that move. But it's just the first skirmish in their four-year term.
With the vote a tantalizing 5/4, persisting with the easy three word 'Cut Our Rates' message will be tempting.
But will it simply bring on years of acrimony and division?
Will repeating the same debate over and over ad nauseum risk becoming a waste of process in itself?
TWiSK opinion: Lets be united in a crisis
The pandemic has hurt the local economy,  ravaged the local arts scene and put unprecedented demands on social support services.
TWiSK says is the time for a 'unity ticket' on ways to make a positive difference in the local COVID recovery.
A rate freeze, while tempting, will not save many local businesses or residents.
Yes, it's powerfully symbolic, but you do the maths: A $365 rate reduction equals a $1 per day saving.
A better goal might be to help create a community where that business, employee, social service or arts organisation could earn more than $1 per day extra.
Let's keep sharing ideas about how to support the local economy, including the arts and social support.
Then accelerate action by sweeping away unnecessary bureaucratic steps,
such as was brilliantly done with the pop-up parklets.
No one likes paying rates, but removing wasted processes and excessive bureaucracy are much more worthy goals.
To cruelly plagiarise President Kennedy
Ask not how to cut rates, but ask how rates can do more for you (and your community).
As always, your opinion is invited.
Greg Day
Happy to chat anytime 0418 345 829
Content suggestions and community questions are always welcome.
gday@gdaystkilda.com.au
Recent editions
Monday 21 June – Sunday 27 June
Monday 14 June – Sunday 20 June
Monday 7 June – Sunday 13 June
This Week in St Kilda respectfully acknowledges the Yaluk-ut Weelam Clan of the Boon Wurrung. We pay our respect to their Elders, past, present and emerging. We acknowledge and uphold their continuing relationship to this land.