ABC Drive live @ Acland Plaza
Monday 29 April, 4 pm – 6.30 pm
ABC Local Radio's Raf Epstein will broadcast live from Acland Plaza for his entire show. Drop by to hear from the major candidates and participate.

Macnamara candidates debate @ Memo
Tuesday 30 April, 7.00 pm
Hear from major party candidates (ALP Josh Burns, Liberal Kate Ashmor and Greens Steph Hodgins-May) in a Q&A style discussion introduced by 'topic experts' including John Daley, CEO Grattan Institute; Alastair Nicholson QC; and former Senator Lyn Allison.
No tix required – free entry
Info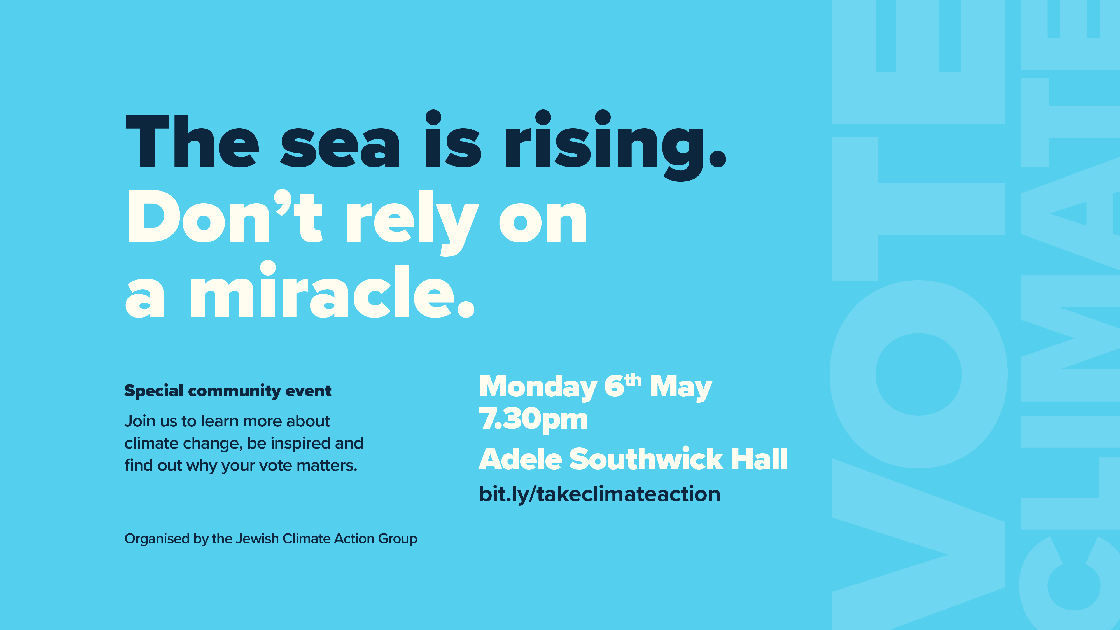 Jewish Community Climate Election Event @ Adele Southwick Hall
NEXT WEEK Monday 6 May, 7.30 pm
Organised by the Jewish Climate Action Group, this Jewish community event focuses on climate change and the forthcoming election. MC Rebecca Forgasz, speakers include Eytan Lenko, Gavan McFadzean (Australian Conservation Foundation) and Freya Boltman (King David School). With music from Alma Zygier
Bookings 
12 Charnwood Grove, St Kilda
Local election news: Labor will fund new Ecocentre
Labor has pledged $2.75 m for a new St Kilda Ecocentre. Clare O'Neil MP for Hotham and Shadow Minister for Justice and Financial Services announced the pledge on Saturday at the Ecocentre with local ALP candidate Josh Burns. With funds already pledged by Council, this means a brand new Ecocentre will be built if the ALP are elected.
Local pre-poll location
Deaf Children Australia
597 St Kilda Rd
Wheelchair accessible
Monday 29 April – Friday 3 May (8:30 –17:30)

Reclink Community Cup 25th Anniversary @ Espy
Wednesday 1 May, 7 pm
Fundraiser live in the Gershwin Room, featuring DJ Albo (Albanese) with special guests DJ Ged (Kearney) and mystery musos. $20
Into and tix

No Regrets – The Edith Piaf Story @ Memo
Wednesday 1 May, 7 pm
Nikki Nouveau presents the intriguing life and times of legendary Parisian artist Edith Piaf through song and story.. $35
Tix

Lara Travis @ Ember Lounge
Thursday 2 May, 7.30 pm
Lara Travis has an intriguing bio: songwriter, art writer and historian, curator, stripper. $15 YouTube
Tix

Stephen Cummings 'A Life Is A Life' @ Memo
Friday 3 May, 7.30 pm
W/guests Dave Graney & The Mistly
Rare chance to see and hear is one of our most revered rock 'n' roll icons. $30
Tix

Go!! Show Gold @ Palais
Saturday 4 May
That's Gold, not old! Normie Rowe, Johnny Young, Ronnie Burns, Colleen Hewett, Lucky Starr, Marty Rhone, Rob E.G., Issi Dye, The Vibrants, Bobby Bright and The Groove, $90+
Tix

Kurt Vonnegut's Slaughterhouse Five @ Theatre Works
Until 5 May, 7.30 pm
Monash Uni Student Theatre production of a theatrical adaptation of one of the most loved, important novels of the 20th Century. $47/$32
Tix

Art Laneway Café launch @ Space2b
Sunday 5 May, 10 am – 1 pm
Discover a new cafe with a taste of Brazilian soul hidden in the laneway behind Space2b.
Behind 144 Chapel Street