This Week in St Kilda – 200th weekly e-letter
TWiSK #200
This Week in St Kilda has been coming to St Kilda every week since February 2016
Last chance Postcards @ Linden
St Kilda Festival @ St Kilda
Ladies Who Sing Leonard @ Memo
The Feather in the Web @ Red Stitch St Kilda
Get TWiSK every Sunday 7 pm
TWiSK is free, self-funded and totally independent


Final week for Postcard show @ Linden
Until 9 February, Tuesday to Sunday. 11 am to 4 pm
Last week to see over 1250 works from 400 artists, all postcard size and all for sale. A treat.
Pictured is the winning entry by Mark Hopper, Shaun The Wanderer, 2019, photograph
Info

St Kilda Festival @ St Kilda
Sunday 9 February
Celebrating 40 years. Eight stages, dozens of activities, thousands and thousands of people.
Free.
TWiSK's picks


Freya Josephine Hollick
11:30 am – 12:15 pm
Alfred Square Stage


Cash Savage And The Last Drinks
2:30 pm – 3:15 pm
Main Stage


Kee'ahn
3:20 pm – 4:00 pm
Fitzroy Street Stage


The Black Sorrows
5:45 pm – 6:30 pm
Alfred Square Stage


Icehouse: Special anniversary guests
They played as Flowers at the first festival in 1980 (yikes)
7:45 pm – 8:55 pm
Main Stage
See the full line-up and more 

Mov'in Bed cinema @ Catani Gardens (Pier Road)
Until Sunday 23 February – no Monday screening
Gates 5 pm – Movie sunset (around 8.45 pm)
This week: Once Upon a Time in Hollywood, Charlie's Angels, Jojo Rabbit, Maleficent: Mistress of Evil and Spies in Disguise.
Bed from $36 pp, grass $9 pp
Tix

New Balance @ TheatreWorks
Tuesday 4 February – Saturday 8 February, 7 pm
Intersecting stories of the queer experience, revealing the intimacy and surprising universality of the queer experience growing up. $20
Tix

Leopard Print Loincloth @ TheatreWorks
Tuesday 4 February – Saturday 8 February, 9 pm
An all-male, ruggedly talented cast of six inhabit this beer-scented new play from Melbourne playwright Jake Stewart. $20
Tix

Louise Chen and Studio 106 artists @ Carlisle Street Art Space
Wednesday 5 February – Wednesday 4 March
Opening event: Thursday 6 February, 6 pm to 8 pm
Meet the Artists: Thursday 20 February, 5 pm to 7 pm
Louise Chen's photographs and film, alongside the artists' work, chronicle the current cohort of Studio 106 artists before the inevitable redevelopment of the site.
Info
St Kilda Town Hall

Ladies Who Sing Leonard @ Memo
Thursday 6 February, 8 pm show
Great line up of vocal talent celebrate L Cohen including Devorah, Gabriella Cohen, Alma Zygier, Sophia Tuv (Israel), Galit Klas, Bonnie Love, Shkolnik And Laure Lauren Glezer N Glezer. $30+
Tix

The Juniper Tree @ Astor
Friday 7 February – Sunday 9 February, 7.30 pm, 4 pm Sunday
Director, professor and Fulbright scholar Nietzchka Keene's stark, stunning debut feature.
Info
Blondie Has More Fun @ Fyrefly
Saturday 8 February, 8.30 pm
Suzi Q P Dohl once again has assembled an amazing line up of musicians to pay tribute to Blondie and to raise money for Sacred Heart Mission, St Kilda Gatehouse Project. $20
Tix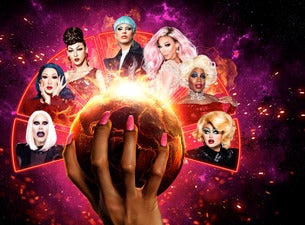 RuPaul's Drag Race World Tour @ Palais
Saturday 8 February, 8 pm
Intergalactic queens take you on a journey to save the universe. $110 +
Half tix sales go to bushfire relief / animal charities.
Tix

Open church with sausage sizzle @ Christ Church
Sunday 9 February, 12 noon – 8 pm
See the stunning gold rush money church with its luminescent stain glass. DJ and
sausage sizzle
14 Acland Street

Battle of the Bands @ TheatreWorks
Sunday 9 February (Festival Day), 3 pm – 8 pm
During St Kilda Festival, TheatreWorks will be transformed into a full-blown concert hall, with 6 bands battling for glory. Drop by for a drink! Free entry
Info
Don't miss

The Feather in the Web @ Red Stitch St Kilda
Until  Sunday 1 March
A lacerating satire of mainstream culture that revels in all the magnificent, awful parts of ourselves we've learned to squash right down.
Tix

Rain Room @ Prince Jackalope Pavilion
Until 29 February
20 minute sessions, from 10 am every day except Tuesdays
Rain falls everywhere but you stay dry.
Special School Holiday kid friendly sessions.
Tix
Local venues with music (often free)
Claypots
Famous for Elvis in the arvo and cosy room jazz
213 Barkly St, St Kilda
Dog's Bar
Classy line up every week
54 Acland St, St Kilda
Tolarno's
Music some nights.
42 Fitzroy St, St Kilda
Espy Basement
Free music most nights and Sunday arvo.
Tuesday open mic, Sunday blues.
Previous TWiSK e-letters
Monday 27 January – Sunday 2 February
Monday 20 January – Sunday 26 January
Monday 13 January – Sunday 19 January
Monday 16 December – Sunday 12 January
Monday 9 December – Sunday 15 December