Cake Daddy tackles big issues @Theatre_Works, construction starts @VicPrideCentre, Shut Up and Play The Hits @astor_theatre, The Johnnys @memomusichall and Huge Sunday @stkildafestival
Pride Centre construction @ Fitzroy Street
With builders Hansen Yuncken appointed, demolition of the former Monroe's restaurant will start within weeks ready for construction of the new Pride Centre from mid-year for completion by mid-2020.
Watch an animated projection of the construction and design.

Cake Daddy @ Theatre Works
Until Sunday 10 February, various times
Cake Daddy is about being fat in a fat-phobic world.
Big Irish man Ross Anderson-Doherty invites you into his very large world.
He's big, his talent is big and his agenda is bigger.
It would be a big mistake to miss this.
$34/$29 locals get a discount
Tix and info

Sing a song of sixpence @ Ember Lounge
Monday 4 February, 7 pm
Ruby Gill, Grim Fawkner and Kerryn Fields, join with Dion Hirini to try a few new songs. $18
Tix
Landed @ space2b
Tuesday 5 February until 2 March
Opening Friday 8 February 6 pm – 8 pm
Art works by Karen Bravo García & Muhubo Sulieman.
Muhubo is a traditional artist from Somalia. Karen is an artist with Afro Colombian heritage.

Cool Sounds + House Deposit @ Espy
Thursday 7 February, 8 pm
A night of '60s garage rock and surf. Free
Espy gigs

Grindhouse @ Espy
Friday 8 February, 7.30 pm
Grindhouse are four sexually misguided punk rock outlaws. Free.
Espy gigs

Showdown with The Johnnys @ Memo
Friday 8 February, 7.30 pm
Trailblazing cowpunks The Johnnys are back after almost a decade. $38
Tix

Shut Up and Play The Hits @ Astor
Friday 8 February, 7.30 pm (single feature)
Special presentation of the entire 3.5 hour LCD Sound System concert on the big screen – dancing mandatory.
Tix and info
RuPaul's Drag Race @ Palais
Friday 8 February, 7.30 pm
After sold-out shows in the USA, the queens of RuPaul's Drag Race return for their Werq The World Tour 2019
Tix and info

Garden Quartet & Saray Iluminado @ Memo
Saturday 9 February, 7.30 pm
An evening of Persian, Australian, Bosnian and Sephardic Jewish music. $35
Tix and info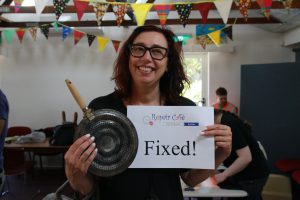 St Kilda Repair Cafe @ Ecocentre
Sunday 10 February, 2.00 pm
Don't be a tosser, brave the festival crowds to get stuff repaired and saved from landfill!
Info

Festival @ St Kilda
Sunday 10 February, 10 am to 10 pm
See the line up and program
Little Catani program for families 
Watch for giant seagulls, inflatable whales and a roving lobster amongst the crowds flocking to the 'hood.
www.stkildafestival.com.au
Get ready


Swell: Music as medicine @ Espy
Starts Wednesday 13 February
Journey through multiple music-meets-art encounters inside never-before-seen parts of the iconic Espy. $45 / $30
Espy arts program
Ongoing


Sweet Phoebe @ Red Stitch
Until 3 March
A tightly wound play by one of Australia's most acclaimed playwrights, Michael Gow.
Info and tix