Welcome to TWiSK #195
Blow off the office party and head home for an amazing week in St Kilda.
Music, books, comedy and off beat shopping for a good cause.
This Week in St Kilda
Have you heard the latest St Kilda Talks Podcast?
Co-host Carmel Shute with guests from Red Stitch, Pride Centre and Port Phillip Community Group.
30 minutes of locals talking local.
Listen Now

Theatre Works 2020 season announced
From camp to comedy, Orwell to new works, kids to Francis Greenslade.
With tix from $20 at each show.
Check the program

2001: A Space Odyssey 70mm @ Astor
Monday 9 December, 7.30 pm
Kubrick's futuristic meditation on technology and humanity. Awesome.
Tix

Ghosts of Hotel Esplanade @ Espy
Tuesday 10 December, 6 pm
Ghost tour meets true crime and tales of centuries passed. Explore the 140-year-old iconic Espy. $33
Info

Book launch: A Guide to Historic St Kilda @ Readings
Tuesday 10 December, 6.00 for 6.30 pm
Join David Willis for a discussion of his new book that tells the stories behind the places we love. Free.
Info 

Red Dust Christmas Comedy Gala @ Espy
Wednesday 11 December, 7 pm
One night only. Wil Anderson, Peter Helliar, Tripod, Dane Simpson, Celia Pacquola, Sean Choolburra and special guests.
100% goes to Red Dust programs in partnership with remote Indigenous communities. $85+
Tix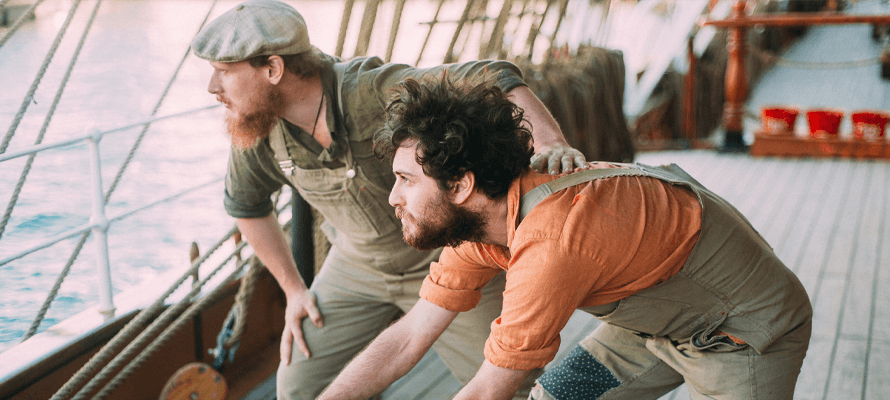 Grubby Urchins Sea Shanties @ Library
Thursday 12 December, 6.30 pm to 7.30 pm
Join the singing of maritime work songs from the golden age of sail
TWiSK says these are great fun. Hurry, will sell out.
Bookings essential 

Ivan Aristeguieta – live comedy taping @ Fyrefly
Thursday 12 December, 7.30 pm
For one night only, Ivan will tape his sell-out festival hit show, The Fourth Fourth, plus some extra bits. $23.50
Tix

Judex Rose & The New Impromptu Quartet @ Alliance Française
Thursday 12 December, 8 pm
Judex Rose is a Mauritian music composer and multi-instrumentalist. $25 / $20 French cheese plates available for $10!
Info

Fundraiser and Exhibition @ Toot Artspace
Thursday 12 December, 6 pm – 8 pm
Toot Artspace + Zine Shop needs your support to continue to run in 2020. Show your support by coming along, buying an artwork or zine at affordable prices or make a donation.
Toot
17-19 Irwell Street, St Kilda
Thursday-Saturday 11 am-5 pm, Sunday 12.30-2.30 pm

Northside Jazz Orchestra (NJO) @ Fyrefly
Friday 13 December, 7 pm
With a massive 13 horns, a spicy 4-piece rhythm section, plus vocals from Sam Qualtrough and Yvette Hearn. First time South of the Yarra – hope they packed their passports. $28
Tix

Mahua Improv Night @ Alex
Friday 13 to Sunday 15 December, 7 pm
Performed in Mandarin, without scripts, props, and rehearsals.
Info and tix

Painters and Dockers @ Espy
Friday 13 December, 8 pm
Melbourne Rockers Painters and Dockers hit the Gersh this December for a very special Xmas show. Joined by guests Dalicados & Desolettes. $43.50
Tix

Opeth @ Palais
Friday 13 December,
Swedish progressive metal masters. $129
Tix

Celebrating Tina Turner's 80th Birthday Party @ Memo
Friday 13 December, 7.30 pm
Rebecca O'Connor delivers her rendition of Tina Turner's greatest. $40
Tix

Christmas plant and seedling sale @ Salvo's Upton Rd
Saturday 14 December, 10 am – 2 pm
The Salvo's Upton Road social enterprise links young people to education and employment opportunities, including work in their permaculture gardens. Buy a plant, have a coffee or BBQ.
4B Upton Road St Kilda near Wellington Street.

Betoota Advocate Live @ Alex
Saturday 14 December, 7 pm
Join Australia's most trusted newspaper for the release of their latest book How Good's Australia. $50
Tix

Into The Mystic 'Xmas Show' @ Memo
Saturday 14 December, 7.30 pm
TWiSK says the fabulous Joe Creighton and band take you joyfully Into The Xmas Mystic. $30
Tix

Steve Kilbey & Amanda Kramer @ Fyrefly
Saturday 14 December, 7.30 doors
Two amazing musos playing from 9.30 pm. $44
Tix

The Wizard of Oz – 80th Anniversary @ Astor
Sunday 15 December, 2.00 pm
Classic.
Tix

Russell Morris and Broderick Smith @ Memo
Sunday 15 December, 7.00 pm
Two local musical greats, one stage. $35
Tix
Don't miss

Oil @ Red Stitch Cromwell Road
Until 15 December, various times
Ella Hickson's epic play traces the evolution of the oil industry in a hurtling collision of empire, history and family.
Red Stitch has expanded to have two venues, St Kilda plus a larger theatre and office space in Cromwell Road, South Yarra.
Accessibility is limited; please discuss with the Box Office.
Tix
Read The Age review Oil

Open air cinema @ South Beach
Until Friday 20 December, nightly from sunset (gates open 6.30 pm)
A program of popular movies on the foreshore $20+
Program 

Postcard show @ Linden
Until 9 February, Tuesday to Sunday. 11 am to 4 pm
Over 1250 works, over 400 artists, all postcard size and all for sale. A treat.
Pictured is the winning entry by Mark Hopper, Shaun The Wanderer, 2019, photograph
Info

Rain Room @ Prince Jackalope Pavilion
Until 31 January, 20 minute sessions, from 10 am every day except Tuesdays
Rain falls everywhere but you stay dry.
Special School Holiday kid friendly sessions.
Tix
Family (Admits 4) $88.70; Junior (3 – 17 years) $18.90; Concession $26.00; Adult $31.10.
Corner of Acland and Jackson Streets

Taming of the Shrew @ St Kilda Botanical Gardens
Saturday 7 December to Sunday 22 December, 7 pm
A full-scale, fast-paced adventure in the gardens. Seating is provided , BYO your own picnic to enjoy. 90 minutes, no interval. Suitable for all ages. $20/$25/$30
melbourneshakespeare.com
Next year

Saturday Laughternoon w/ Dave O'Neil @ Memo
Saturday 11 January, 2.00 pm
Saturday arvo laughs in St Kilda in summer. Dave and secret guests.
Hurry early-bird price $20 ends 12 Dec.
Tix
St Kilda Talks Podcast: December edition #3
With co-host Carmel Shute
Listen Now

NYE ideas from the podcast
NYE Party with Jack Howard and friends @ Fyrefly
Info and tix
Melbourne Ska Orchestra NYE extravaganza@ Memo
Info and tix
Kingswood @ Espy
Info and tix 
Opshop Christmas shopping ideas from podcast
Greeve St Recycled
16 Belford St, St Kilda
Empower
112 Acland St, St Kilda
Space2b
144 Chapel St, St Kilda
Salvo Store St Kilda
116 Carlisle St, St Kilda
Sacred Heart op shop East St Kilda
415 Inkerman Street, (cnr Hotham St) East St Kilda