As spring kicks in, St Kilda kicks on. We'll amaze you at TEDxStKilda, rock you with TMG, bang the Burundi Beat with Adam Ant, get French with Jean-Paul Belmondo, dress in lederhosen, get shredded, break codes and more. This Week in St Kilda.
Boat Dreams @ Acland Plaza
Postponed until Sunday 29 October
Through a series of installations, discover how new communities take the treacherous journey across dangerous waters in search for new lands and a better life.
www.portphillip.vic.gov.au/acland-street.htm
Run well running club @ St Kilda Lifesaving Club
Wednesday 11 October, 6.45 pm
A free community running meet-up.
runwell@runwell.net.au

TEDxSt Kilda @ Memo
Wednesday 11 October, 7 pm
Great speakers, cool venue. $125 plus booking fee
Info

Classic French Film Festival @ Astor
Thursday 12 – Sunday 15 October
The 2017 Classic French Film season focuses on the iconic Jean-Paul Belmondo, showcasing restored versions of six of his most renowned films from 1961 to 1974.
Tix and info 
Drugs 101: Peer Pressure @ St Kilda Library
Thursday 12 October, 6 pm – 7.30 pm
The editor and founder of Parent Guides, Eileen Berry, with special guest, recovering addict Travis Barugh, will inform and spark open, honest and meaningful conversations with parents around all-things drugs.
Book via Facebook 

Cass Eager @ Dogs Bar
Thursday 12 October, 8.30 pm free
Cass Eager has a brand new beat and she's hitting the road with her band this October to send new single 'Ain't No Stopping Me' off into the world.
Info and video
Bushtucker walk for seniors @ Ecocentre
Friday, 13 October, 10 am
Walk around the St Kilda Botanical Gardens to learn about native plants, their healing properties and bush tucker. Spend time in the EcoCentre kitchen sampling the bush tucker.
Places limited to 10. Bookings essential 9534 0670

Benny Walker @ Memo
Friday 13 October, 7.30 pm
Best Aboriginal Act of the Year at the Age Music Victoria Awards, Yorta Yorta singer/songwriter Benny Walker is set to wow the Memo
Tix and info

Boney M @ Palais
Friday 13 October and Saturday 14 October, 8.00 pm
Boney M (Maizie Williams) are back performing all of their Greatest Hits including Ra-Ra- Rasputin.
Tix

TMG @ Memo
Saturday 14 October, 7.30 pm
Jump in your cars and get in quick to see the much remembered seventies pub rock band Ted Mulry Gang with the original members together again for the first time in over 25 years! There are some pretty interesting ring ins too.
Tix and info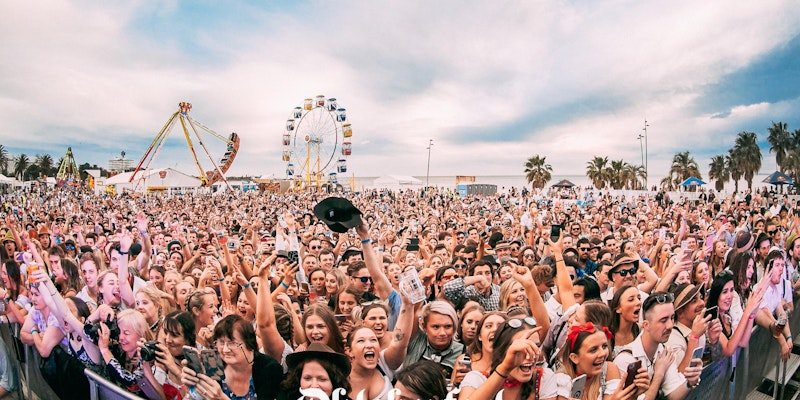 Oktoberfest @ South Beach
Saturday 14 – Sunday 15 October, 12 noon – 10 pm
Think about beer and lederhosen – some music too. $90 – $50
oktoberfeststkilda.com

Community Shred Day @ Elwood Foreshore
Saturday 14 October, 10 am – 1 pm
Reduce your risk of identity scams by taking part in Community Shred Day. No need to remove staples or clips from documents. Maximum five boxes per person.

Espionage & Code Breaking World War 2 @ Alliance Francaise
Saturday 14 October, 3.00 – 4.30 pm
Canberra-based author David Dufty in conversation with Carmel Shute will explore The Secret Code Breakers of Central Bureau and the origins of World War 11 intelligence decoding in our local suburbs. Importantly David's book also uncovers the secret and vital role played by women decoders in winning the Pacific War.
No wheelchair access $10 non-members
Alliance Francaise, 51 Grey Street, St Kilda (Basement)
stkildahistory.org.au

Adam Ant @ Palais
Sunady 15 October, 7.30 pm
Following his recent sold out North American and UK tours, pop icon Adam Ant is celebrating the 35th anniversary of the release of his landmark "Kings of the Wild Frontier" playing the classic album in its entirety and in sequence.
Tix and info 
Ongoing


Voiceless Journeys @ Space2b
Until 3 November, Wednesday – Friday 10 – 5pm, Saturday – Sunday 10 – 2 pm
A photographic exhibition presented by Ondru, is currently on at Space2b, until 3 November 2017.
Voiceless Journeys celebrates and portrays ten people from cultural diverse backgrounds. It maps their journey; their struggle; their achievements. The entire art project series is compiled in the Voiceless Journeys Book, also on sale during the exhibition. www.voicelessjourneys.org | Vimeo
Space2b, 144 Chapel St. 3182 St. Kilda, VIC

American Song @ Redstitch
Until Sunday 5 November
Written by Joanna Murray-Smith and starring the amazing Joe Petruzzi, American Song explores how a good life can turn irredeemably bad.
redstitch.net

All of my friends were there @ Theatreworks
Until Wednesday 11 October 7.30 pm
A Melbourne Festival event: Last year The Guerrilla Museum's Funeral revealed to some audiences the rituals that will accompany their own death. This year they're celebrating all that comes before.
Presented in association with Theatre Works and The Guerrilla Museum. $49
Tix

When art becomes advertising @ Eildon Gallery, Alliance Française
From Thursday 5 October until 4 November
An exhibition of advertising posters created by some of the biggest French artists of the 20th century. Free
https://afmelbourne.sslsvc.com/about-us/le-blog/quand-lart-sempare-de-la-pub/when-art-becomes-advertising
Next week


White Light European Folk Dance
Monday 16 October, 1.30 pm – 4 pm
St Kilda Town Hall Auditorium, 99a Carlisle Street, St Kilda
Circle and line dancing from all over Europe with a dance instructor and live band.
Bookings essential, call ASSIST 9209 6777 or rsvp@portphillip.vic.gov.au
Pinaroo Village Festival
Sunday 15 – Tuesday 17 October, 11 am – 4 pm
A three day festival of free community activities for residents of Pinaroo and surrounding streets. Arts, music, comedy, food and spoken word.
Pinaroo Village, 114 Inkerman Street, St Kilda