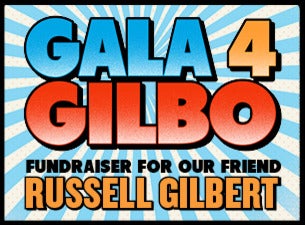 Gala 4 Gilbo @ Palais
Tickets on sale Monday for Sunday 17 July
Russell Gilbert suffered a devastating series of personal and medical issues in late 2015. All profits from Gala 4 Gilbo will help to provide for his rehabilitation and care. The comedy line-up includes Dave Hughes, Wil Anderson, Judith Lucy, Glenn Robbins, Denise Scott, Shaun Micallef, Richard Stubbs, Brian Nankervis, Lehmo, Bob Franklin, Lawrence Mooney, Trevor Marmalade, Colin Lane, Shane Bourne, Scared Weird Little Guys, Red Symons, Wilbur Wilde and more, hosted by Mick Molloy.
Tix and info On sale Monday 23 May, 10am
Claypots set to open on Fitzroy Street
Yes it's true, Claypots are set to open on Fitzroy Street not far from Leo's. The Barkly Street and South Melbourne outlets will continue with their tasty blend of music, seafood and great tastes. Rumour has it that Tuesday is opening night – yummy!
Bob's 75th birthday @ Memo
Friday – Sunday, 27 – 29 May
The times they are a changin', but the magic of Dylan is remainin' – join a great collection of local talent as they celebrate the Zimmerman. All star house band with volumes of great singers, including Angie Hart, Sime Nugent (Sweet Jean), Gallie, Suzannah Espie, Lisa Miller, Rebecca Barnard (with Shane O'mara), Van Walker, Simon Bailey (Pony Face), Lucie Thorne and Charles Jenkins.
$55 for a seat, $40 at the door
Info and tix 
St Kilda Film Festival @ St Kilda Town Hall
With sessions every night this week, there's plenty of 'reel' good reasons to get to the fest, including:
Monday 7.30: Lost laughs from the past – featuring lots of local color, including Mitchell Faircloth, Tracy Harvey and Gary Adams. So shocking that no one dared screen them for 30 years – but worth a laugh. Or as Slim Whittle would say, 'thanks for being the best damn audience that's ever been had – thanks for being had'.
Wednesday: Youth programs and Indigenous Films
Thursday 7.30 pm: SoundKilda – music videos on a big screen played loud.
Saturday from 2 pm: Wild at Heart, Palms Springs Film International Shortfest (5.30 pm)
Check out the program and get tix
Don't miss out …
The River @ Red Stitch
Until 28 May
With Ngaire Dawn Fair, Dion Mills & Christina O'Neill – the shows are almost sold out!
Bookings
The Tragedy of Coriolanus @ Theatreworks
Until Sunday 29 May
Shakespeare in St Kilda with Willy's last tragedy set in a world akin to a post-riot Ukraine.
$35 Full / $26 Conc
More info and tix