Click to get TWISK every Sunday @ 7 pm


OUR LATEST PODCAST Have you heard the Horns of Leroy recorded live in Acland plaza on Saturday?
Six minutes of glorious horns.


And for something completely different, the Elwood Community Choir recorded live at the St Kilda Light Rail station – also part of Live N Local. Goodnight Sweetheart.

Australian Chamber Orchestra with Richard Tognetti @ St Kilda Synagogue
Monday 21 August, 7 pm
Extraordinary opportunity to visit the magnificent Synagogue to hear extraordinary music. All ticket income will go to support the Jewish Museum. $115 / $85 Tix

The Way Out @ Redstitch
Tuesday 22 August – 24 September
The Way Out is a new play by Josephine Collins, developed through the Red Stitch INK program. Featuring Kevin Hofbauer, Rory Kelly, Grace Lowry, Olga Makeeva, Dion Mills, Khisraw Jones-Shukoor and Sahil Saluja.
Redstitch

Top Dog Film Fest @ Astor
Wednesday 23 August 8.30 pm – 10.30 pm
The inaugural Top Dog Film Festival presents a 2 hour cinematic celebration honouring the bond between dogs and their people (8 short canine-themed films). Tix 
St Kilda Jazz Heritage Project Launch @ Palais (in the foyer)
Wednesday 23 August, 8 pm
Be part of a special jazz soiree in the foyer of the restored Palais to launch a jazz history website. Catch live performance by jazz greats including Bob Sedergreen and Paul Williamson.
Free but booking required

Eglantyne: the Play @ Ripponlea Estate
Thursday 24 – Friday 25 August, 2 pm & 6.30 pm
A solo performance in a play about Eglantyne Jebb, founder of Save the Children.
$65 – all proceeds to Save the Children
Tickets
Rippon Lea Estate, 192 Hotham Street, Elsternwick

Chris Hadfield @ Palais
Friday 25 August, 7.30 pm
Singing Space Oddity from the international space station was only the beginning…
Info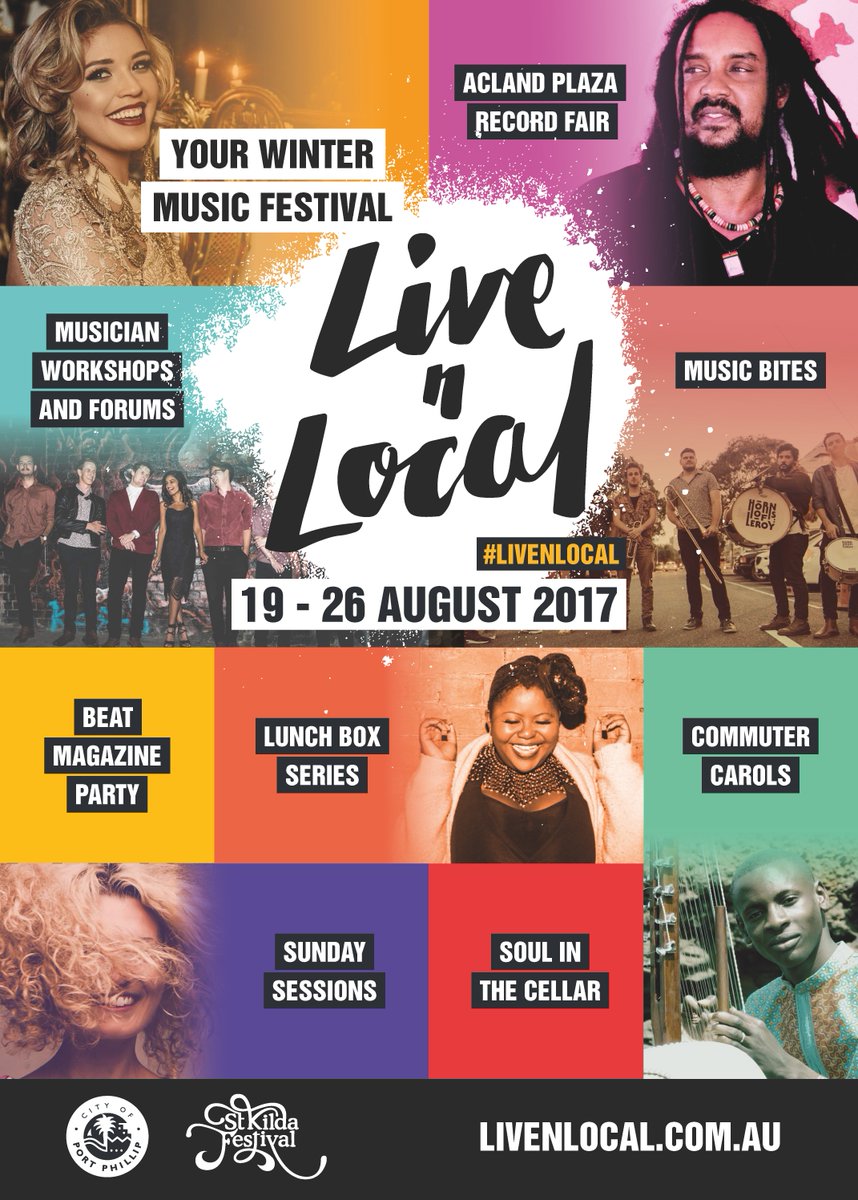 Live'n'Local free music @ St Kilda (and beyond)
Until Saturday 26 August
Loads of free gigs, music in the streets, workshops and industry program. Here are the St Kilda gigs this week:
Monday 21 August
Brooke Taylor and Delinksi Records
Acland Plaza, 12.30 pm
Tuesday 22 August


Jam Jar
Acland Plaza, 12.30 pm
St Kilda Songwriters Sessions
Dogs Bar, 7 pm
Wednesday 23 August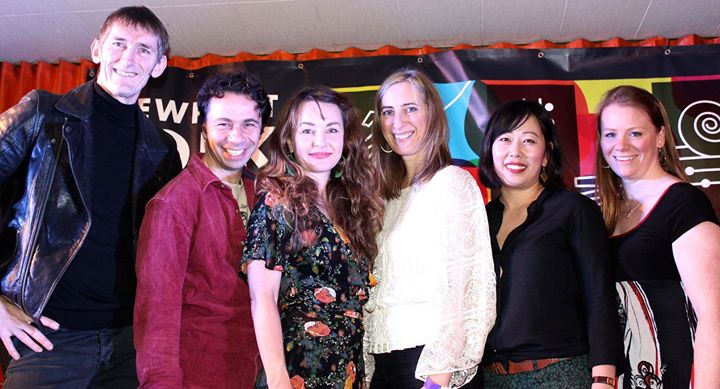 Avenida Sol
Acland Plaza, 12.30 pm
Adam Rudegeair and Ben Christensen
Sorsi e Morsi, 7 pm
St Kilda Jazz Heritage Project Launch
All star St Kilda jazz band with special guests: Bob Sedergreen, Paul Williamson and more
The Palais Foyer, 8 pm
Thursday 24 August


The Northern Folk
Acland Plaza, 12.30 pm
Elwood Community Choir
Off The Rails Café, 8 am
The Rank Outsiders
Freddie Wimpoles, 9 pm
Delinksi Records Live at the Library
St Kilda Library, 6.30 pm
Women of Song
Maxon, Monique DiMatinna, Hachiku
Sacred Heart Church, 6.30 pm
Sylvia Fonteyn
St Luja, 8pm
Soul In The Cellar
Fulton Street, Mayfield, DJ Lyndelle Wilkinson
Newmarket Hotel, 8.30 pm
Friday 25 August
Melbourne African Traditional Ensemble
Acland Plaza, 12.30 pm
Ras Jaknow
Pause Bar, 8 pm
Black is Vinyl
Second Act, 35-37 Fitzroy St, 8 pm


Senegambian Jazz Band Album Launch
Senegambian Jazz Band
Memo Music Hall, 8 pm
Jump To It Fridays with The Breakdown
The Local Taphouse, 10 pm
Swell live music @ Acland Plaza
Saturday 26 August, 3 pm
Get cosy and intimately dream with local musicians, artists, philosophers and storytellers as they share a note on the future of live music.
Info 
Wonderful Women tour @ St Kilda Cemetery
Sunday 27 August, 2 pm
Tour the grand St Kilda Cemetery focusing on women of note.
St Kilda Cemetery, main gate, Dandenong Road
$10 info@foskc.org

Peace: a cantata by David Kram @ All Saints
Sunday 27 August 4.00pm
Solo baritone Michel Laloum, conductor/pianist Dr David Kram and members of the Melbourne Chamber Choir present excerpts from the forthcoming world premiere of the choral work composed by David Kram and written by Kevin O'Flaherty. $25/$15/students free (with student card) Info

Classic western double feature @ Astor
Sunday 27 August, 7 pm
The Searchers and Unforgiven both cast an epic shadow over the Western genre. Both deserve the big screen canvas.
Tix
Plan ahead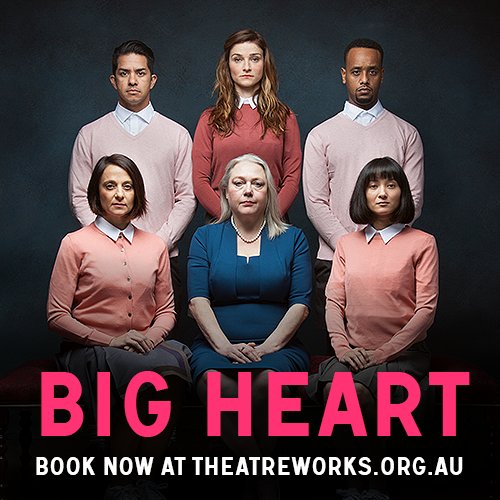 Big Heart @ Theatreworks
6 September – 24 September
Written by Patricia Cornelius and Directed by Susie Dee, Big Heart is the story of a woman who adopts a child from each of the continents. She believes she offers the children a better life, free from poverty, war, or neglect.
Tix

Melbourne Jewish Music Festival @ Temple Beth Israel
Sunday 3 September, 12 noon – 10 pm
A festival of Jewish music. Catch the Klezmatics, US clarinet virtuoso David Krakauer, Renée Geyer, Deborah Conway and Willy Zygier, Tinpan Orange, the Grigoryan Brothers and more.
$66 / $33; kids under 12 free with adult entry; VIP $120
www.shirmadness.com

Melbourne Fringe @ Local venues
14 September – 1 October
Redstitch, Eildon Gallery, Alex and National Theatres are hosting local Fringe Festival events. While just a short tram ride away, Gasworks in Albert Park are hosting an amazing 81 Fringe shows including theatre, dance, comedy, cabaret, circus, burlesque, magic, sideshow, and visual arts. Hubba hubba, event hub indeed.
Fringe program